Guest Post by Prof. Shine Tu.  Dr. Tu is an Associate Professor of Law at the West Virginia University College of Law and a shareholder in PatentCore. His research focuses on large-scale empirical studies of the patent examination system.

In August of 2013, the GAO recommended that the PTO examine trends in patent infringement litigation and link this information to internal data on patent examination to improve the quality of issued patents and the patent examination process.  In our current study, we attempt to answer these questions: (1) which patent examiners are issuing litigated patents, (2) are examiners who are "rubber stamping" patents issuing litigated patents at a disproportionately higher rate, and (3) are examiners with less experience issuing more litigated patents?  In sum, do patent examiners who issue litigated patents have common characteristics?  Intuition would argue that those examiners who issue the most patents (approximately one patent every three business days) would exhibit a higher litigation rate.  Surprisingly, this study suggests that this is wrong.
This study uses two new patent databases, that code for nearly 1.7 million patents and approximately 12,000 patents that were litigated between 2010 and 2011.  This study determined that litigated patents mainly come from primary examiners who grant between 45-60 patents per year with between three to five years of experience.  These examiners are contributing to the litigated patent pool at a higher rate than expected.  Interestingly, the highest volume primary examiners (examiners who on average grant more than 80 patents per year and have more than 8 years of experience) do better than expected.
In the figures below, the dotted line represents the "expected litigation" based on the proportion of patents issued by the examiner.  The solid line represents the "actual litigation" rates seen.  Thus, when the solid line is above the dotted line, the examiners in that group issue more litigated patents than expected.  Conversely, when the dotted line is above the solid line, the examiners in that group issue less litigated patents than expected.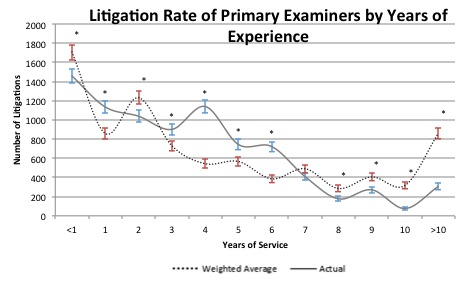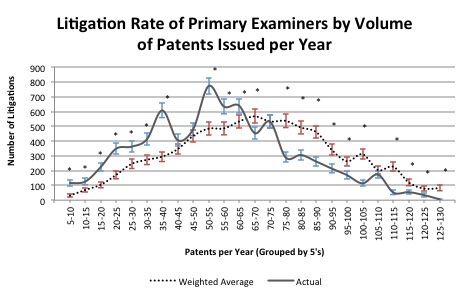 Certain structural factors, combined with the Preist-Klein type selection may explain the phenomena that primary examiners with 3-5 years of experience have higher than expected rate of litigated patents. During the first four or five years, when the examiner does not yet have full signatory authority, the examiner is under heavier scrutiny (review by a primary examiner as well as Quality Control).  During these years, the examiner removes easy cases from their docket (by allowing the clearly allowable cases, or by rejecting the unpatentable cases), and builds up a docket of "on the fence" applications.  Once a primary examiner obtains permanent full signatory authority (usually years 3 and above) are no longer heavily scrutinized. Additionally, production rates increase when a primary examiners acquires full signatory authority (usually an examiner moves to a GS-14 after gaining permanent full signatory status). Thus, new primary examiners who have permanent full signatory authority are in the new position of increased production rates while experiencing reduced supervision, with a larger docket of "on the fence" applications. Accordingly, these primary examiners (usually with more than 2-3 years of experience as a primary examiner) may issue these "on the fence" applications on their docket that they would have been hesitant to allow beforehand. Furthermore, applications that are "on the fence" might be more litigated than most patents. This is because strong patents could be allowed quickly by the examiner, and competitors would most likely need to license these patents, thereby avoiding litigation. Correspondingly, weak patents might take longer to issue, but would most likely not be litigated because of their weak standing. However, patents where validity is unclear may require litigation. These more uncertain patents may be issued at a higher rate when the primary examiner first receives full signatory authority (without supervision), thereby explaining the higher litigation rates in years 3-6.
There are many limitations to this study.  First, the database that we use is a broad database but suffers from some selection bias due to the examiner-matching step. Specifically, temporal selection bias occurs in the database since the examiner database contains only those patents that were issued between 2001 and 2012. Accordingly, litigations dealing with "older patents" (i.e., those patents issued before 2001) are not included in our database. Additionally, since we only have data starting from 2001, there may be a "left justification" issue.  Because we start at 2001, examiners who have worked prior to 2001 (inclusive) will be coded as working less years than they actually have worked.  For example, if an examiner started working in 1998 and quit in 2003, our database would code the examiner as working for 3 years, while in actuality the examiner was at the office for 6 years. We are currently segmenting the data to account for these examiners.  Accordingly, our results may be slightly positively skewed.
Another limitation is based on the fact that there are many reasons to bring litigation, but many of these reasons may not represent errors by the patent examiner. For example, a patent could be litigated and found invalid because of inequitable conduct. In this situation, the patent examiner may have issued a valid patent based on the fraudulent information given to her by the applicant. Another example deals with a patent that was found valid, but non-infringed. Here, the litigated patent may have been correctly issued, but litigated due to incorrect interpretation of the scope of the claims. Accordingly, simply because a patent is litigated, does not mean that there were errors made at the patent office.
To address these issues, we are currently working on a study that reviews only those patents that have been litigated to final judgment and found invalid. We then connect these invalidated patents to their corresponding examiners to determine if there are any common characteristics among the examiners who issue invalidated patents. However, we note that the pool of litigations that are litigated to final judgment dramatically reduces the sample size.
The paper will be published in 17 Stan. Tech. L. Rev. 507 (2014).  A draft of the paper is available on ssrn at: http://papers.ssrn.com/sol3/papers.cfm?abstract_id=2458140