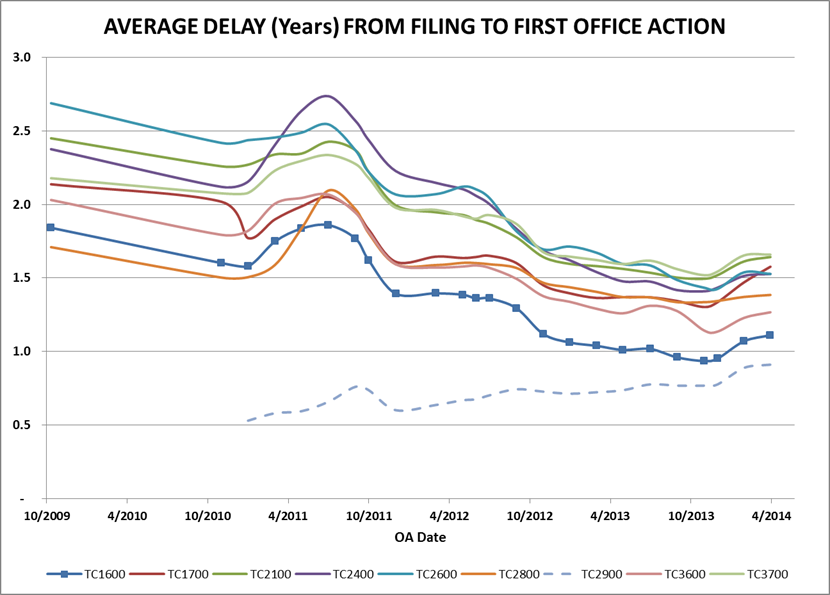 One common complaint of the U.S. patent system is delay. Most patents take over three years to issue. Adding in priority claims moves-out the average timeline (original priority filing date to issuance) to over five years. [Link]. One way that the PTO is addressing that concern is to focus on reducing the backlog of unexamined applications – those that have been filed but that have not yet received a first action on the merits (FAOM). Under Director David Kappos, the goal was to reduce the FAOM timeline to < 10 months – that goal appeared quite amazing at the time, but is now somewhat into focus.

In its Official Gazette, the USPTO occasionally reports average filing-date for recently issued FAOMs. I used those reports to create the above chart considers the timeline for receiving first-actions across the various technology centers within the USPTO. Two salient points appear from the chart. First, the average pendency of unexamined applications has dropped significantly since 2011 and all technology centers are under two-years pendency. Second, the variance between the technology centers has been significantly reduced. This second result has come about based upon efforts at the PTO to move examining resources to areas that are suffering the most from the backlog. Although still the shortest pendency, design patents (TC2900) have come roughly in-line with the rest of the technology areas.

As an interim marker, the time-to-first-action is fairly meaningless. However, the PTO hopes that its reduction will result in an overall reduction in pendency. Time will tell whether that hope is realized. For patentees, the timing can be eliminated by requesting accelerated examination ($4,000 fee).

As suggested by the above discussion, the USPTO patent examination corps is divided into a number of technology centers, and each technology center is sub-divided into one or more art units. The technology focus of each tech center is listed below.

1600 – Biotechnology and Organic Chemistry

1700 – Chemical and Materials Engineering

2100 – Computer Architecture, Software, and Information Security

2400 – Computer Networks, Multiplex communication, Video Distribution, and Security

2600 – Communications

2800 – Semiconductors, Electrical and Optical Systems and Components

2900 – Designs

3600 – Transportation, Construction, Electronic Commerce, Agriculture, National Security and License & Review

3700 – Mechanical Engineering, Manufacturing, Products