Guest Post by Jacob Jacoby, Merchants Council Professor of Consumer Behavior, New York University and President, JacobyIP Research (jj@jjri.com)
When claiming patent infringement due to an individual component of a multi-component product, patent attorneys confront a fundamental problem, namely, determining with a reasonable degree of precision the extent to which the patented feature creates the basis for customer demand.  The purpose of this post is to apprise patent attorneys of a research-based approach capable of doing so with precision, while being able to pass Daubert requirements.
Jason Rantanen's September 16, 2014 post described the kind of evidence considered (and rejected) by the Federal Circuit in arriving at its VirnetX, Inc. v. Cisco Systems, Inc. (Fed. Cir. 2014)  Virnetx v Cisco opinion.  As Jason pointed out:
A key issue in calculating the infringement damages for complex technological products is whether it is appropriate to use the value of the entire device in the damages calculation.  Generally speaking it is not appropriate to do so: "when claims are drawn to an individual component of a multi-component product, it is the exception, not the rule, that damages may be based upon the value of the multi-component product."  Slip Op. at 27.  Rather, "'[a] patentee may assess damages based on the entire market value of the accused product only where the patented feature creates the basis for customer demand or substantially creates the value of the component parts.'" Id., quoting Versata Software, Inc. v. SAP Am., Inc., 717 F.3d 1255, 1268 (Fed. Cir. 2013) (emphasis added by court).  This is due to the general requirement that damages must be actually attributable to the infringing features within a reasonable degree of precision.
The Federal Circuit rejected use of the Nash Bargaining Solution as a model for determining reasonable royalty damages.  This was not surprising, given that a key premise (namely, "where two person bargain over a matter, there is a 'solution'…in which 'each bargainer get[s] the same money profit") could not possibly apply.  Customers purchasing smart phones, computers, TVs, etc. in the real-world marketplace typically are not "bargainers," nor do they realize "the same money profit" from their purchases as do the sellers.
Subsequent discussion of Jason's post yielded interesting perspective, especially the exchange between iwasthere and Curmudgeon.  When the former asked "So how would you propose breaking out the 'value' of FaceTime?…. What do you think [of] consumer survey data?", the latter replied "Yes, I think customer surveys, akin to those used in trademark litigation, could make sense."  As a proponent of surveys and author of the ABA's 1000-plus page treatise, Trademark Surveys (2013), it might be surprising to see me assert: In my professional opinion, traditional survey research is not capable of providing a scientifically reliable and valid basis to be used when assessing damages. Consider some of the problems.
Suppose one asked past purchasers questions regarding the factors led them to make their purchase.  Considerable research shows that asking questions a point in time after the item has been purchased — especially for surveys conducted weeks, months or years after the purchase — is likely to generate answers subject to faulty memory.  Another problem is that the answers are likely to be colored by post-purchase experiences. Although a product feature may not have played a role in their pre-purchase deliberations and decision, positive post-purchase experiences can cause them to overestimate the value of the feature, to the point where they believe they must have considered it prior to purchase.  The reverse effect due to experiencing a disappointing feature is also possible.
Asking prospective purchasers to indicate the factors they think will influence their purchase decision can generate other problems.  Most importantly, prospective customers may not be aware of some product features until they begin seriously considering whether to purchase the product; hence, they could not possibly report on the materiality of these features to their purchase decision.
Consider iwasthere's critical question "So how would you propose breaking out the 'value' of FaceTime?"  The answer is by using behavioral simulations such as those I developed and used for defendants in two matters, Polaroid Corporation v. Hewlett-Packard Company, U.S.D.C.  D. Delaware, C.A. No 06-738 (SLR) (2007) and John Taylor, et al. v. JVC Americas Corporation. U.S.D.C.  D. New Jersey, Civ. No. 2:07 Civ. 4059 (FSH/PS).  Such simulations measure actual information acquisition behavior not before or after the fact, but as it occurs, identifying the specific features potential purchasers of the goods at issue actually do consider and consider important (and those they ignore and obviously not consider important) while reaching a purchase decision.  In part based upon the research findings, both matters quickly settled out of court.  To illustrate, consider the following findings from one of the above mentioned cases which breaks out consumer demand for the contested feature, Feature P, as well as all the other features associated with this product. (Note: The names of the features have been redacted, which is why the features only have letters.)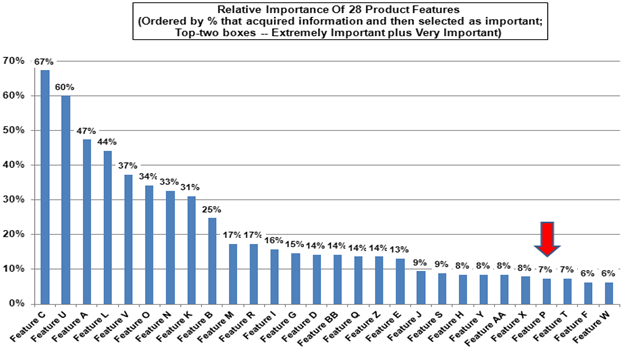 Many contemporary products have numerous features and components.  The Federal Circuit has called for evidence quantifying the extent to which allegedly infringing components or features drive customer demand.  The output from such simulations are capable of doing so better than are any other extant procedures, thereby making it easier for damages to be attributable to the infringing feature(s) within a reasonable degree of precision.  Moreover, given their realistic nature and clear-cut findings, such simulations are likely to be more readily understood and accepted by triers of fact, especially juries, than are intricate damages theories, especially those involving questionable premises or arcane mathematical formulas.
Unfortunately, we cannot go back in time to determine to determine how the parties would react to each other under a hypothetical negotiation at the time of the infringement, a Georgia Pacific factor.  We can only test consumers who are in the process of reaching a purchase decision now.  That said, plaintiffs, defendants and triers of fact may find being able to identify the extent to which a feature or component drives current customer demand is preferable to relying on hypothetical negotiations that would have taken place at the time of the infringement.