Jim Bessen has a short essay in The Atlantic titled: What the Courts Did to Curb Patent Trolling—for Now.   In the essay, Bessen includes the following chart of  showing how the USPTO has slowed-down issuance of business method patents following Alice. Notably, software patents in general have not seen the same slowdown.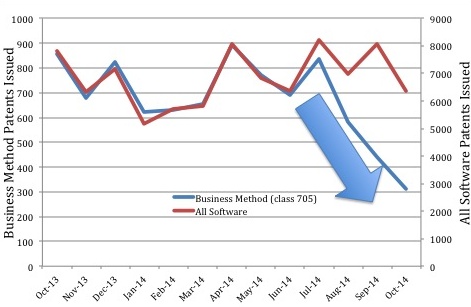 The point here, according to Bessen is that, although the Supreme Court has done some work, there is still plenty of room for Congressional action to further reduce or eliminate patents covering software.
Both sides of the debate have considerably increased their lobbying activity over the past few weeks as Republicans formulate their legislative strategy for 2015.