by Dennis Crouch
As with patent law, willful copyright infringement also leads to enhanced damages. In Seagate (Fed. Cir. 2007), the en banc Federal Circuit drew an analogy to copyright doctrine in determining that willfulness in the patent context should also include reckless indifference.  Truthfully though, copyright law was not as uniform in its approach as suggested by the panel decision.
In Olem Shoe Corp. v. Washington Shoe Corp. (11th Cir. 2015), the Eleventh Circuit goes the other way and relies on the Federal Circuit doctrine on willfulness to help it further refine the test for copyright.  In a issue of first impression for the Atlanta-based Court of Appeals, affirmed that willfulness in copyright law also requires proof that the infringer acted "despite an objective high likelihood that the actions taken" constituted infringement and that the risk of infringement was known or should have been known by the infringer.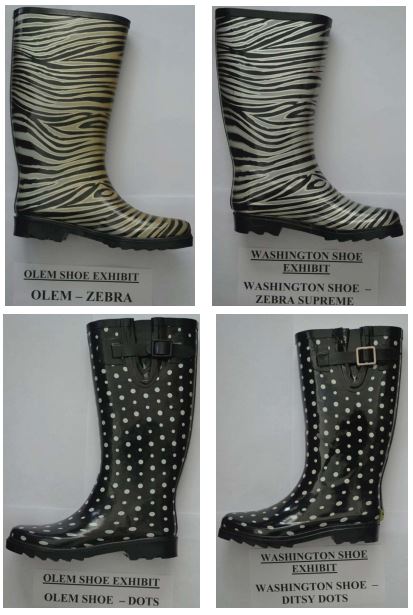 The district court had found infringement but no willfulness. (See comparisons above). On appeal, the panel affirmed — finding that the copyright holder presented no evidence "with regard to actual knowledge that Olem's boots infringed Washington Shoe's copyrights. That is, there is no evidence that Olem knew of Washington Shoe's copyrights and chose to violate them."  The panel also found insufficient evidence to raise a genuine issue of material fact of reckless disregard.
In particular, Washington Shoe argued that its cease-and-desist letters should have created sufficient notice.  However, that suggestion was rejected because the letters "did not include reference to copyright registration numbers or deposit copies. . . [and thus] provided nothing from which Olem could have determined that the claim was legitimate."  Washington Shoe also noted the similarity of the boots  – including evidence that the boots are identical – as a clear signpost of infringement.   However, the appellate panel also found that similarity to provide no basis for a willfulness finding.  Finally, for willfulness, the panel refused to place any burden on the infringer to prove that it had an alternative design source.
* * * * *
A few interesting aspects of the case:
First, I should note that, although expounding upon new law, the panel determined that the decision was non-precedential.  This is likely because two of the three panel members were sitting by designation (one from a district court and the other from the USCIT).
As part of its deliberative process, the district court requested insight from the register of copyrights regarding whether certain alleged inaccurate information regarding the copyright registration would have caused the register to deny registration. Such a request is permitted under 17 U.S.C. 411(b).  This approach is wildly different from the patent law approach where there is essentially no communication between the patent office and the court of enforcement.
The copyright statute only particularly provides for enhanced willfulness damages if the copyright holder first chooses statutory damages (rather than proving actual damages).