by Dennis Crouch
In the Summer of 2014, the U.S. Supreme Court decided the seminal case of Alice Corp v. CLS Bank that pushed further against the patenting of abstract ideas or their non-inventive applications. As part of its implementation procedures, the USPTO quickly began examining applications under the new standards and – as an immediate response – withdrew the allowance of a number of applications that had been determined to be patentable prior to the Alice decision.  Through a FOIA request, Charles Duan and Tristan Gray-Le Coz of Public Knowledge were able to obtain a list of those several hundred withdrawn applications and reported their results on Patently-O in November 2014.
I wanted to follow up on those applications to how they have fared in the seven months since the USPTO's July 2014 action. These cases are interesting because they were ready for issuance and the only extra issue is eligibility under Section 101.  Thus, this setup offers a nice natural experiment to consider cases where Section 101 is of direct importance.
Using PAIR, I pulled up pendency information for each of these applications and the chart below shows the results: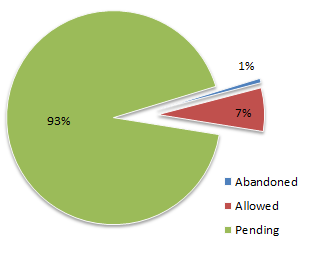 Basically, 93% of the applications are still pending. Most of these have been initially rejected under Section 101 and now are on to a second-round final. 7% though are either patented or have received a notice of allowance. Only 1% of the applications have been abandoned.  Because these applicants had – at one point – a genuine expectation of issuance that may be hard eliminate.
Of these issued patents, I think that the response filed in Application No. 13/076,216 is interesting. In that case, the applicant essentially argued that the USPTO had failed to provide evidence that the idea of data collection and analysis was an abstract idea and failed to provide evidence that the computer-implemented limitations failed to provide sufficient practical grounding in order to avoid the eligibility ax. The '216 application has matured into U.S. Patent No. 8,965,784.
Over the next year, we should begin to get a good picture of how the USPTO will be working with the framework laid out by the courts.