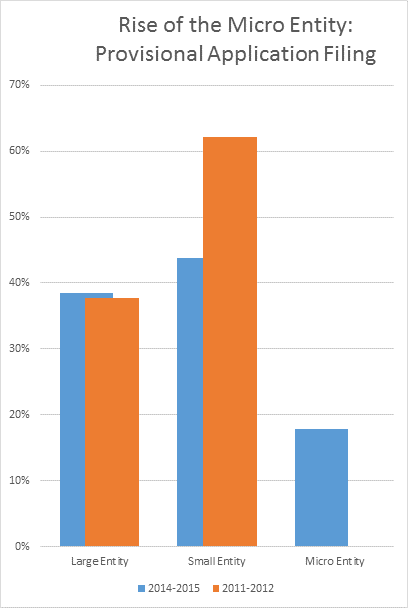 The patent statute now provides for three categories of patent applicants: Large entities, Small Entities, and Micro Entities. As their names suggest, the groupings are largely defined by entity size with the exception that University-owned patents can qualify for micro-entity status despite billion dollar endowments. Entity status determines patent office fees. With a few exceptions, large entities pay full-freight, small entities receive a 50% reduction in fees, and micro entities receive a 75% reduction. I should mention also that the micro entity status became available only in 2013 as part of the America Invents Act (AIA) implementation.
The chart above groups provisional patent application filings into the various entity-sizes and includes two date-groupings: Applications filed in FY2011-2012 and those filed in FY2014-2015 (through August 4, 2015). As is apparent, a substantial percentage of provisional applications are now being filed under the micro-entity status. The pre-AIA information suggests that the rise in micro-entity status should largely be associated with a drop in small-entity status.
About 45% of provisional applications are abandoned without any further non-provisional or PCT application claiming priority.