By Dennis Crouch
The percentage of AIA-patents continues to rise. The chart below shows the percentage of newly issued patents that are AIA utility patents – with about 36,000 AIA utility patents issued so far. I expect that by August 2016, the bulk of newly issued patents will be AIA patents. Under the statute, AIA patents include those patents whose applications ever included a claim with an effective filing date on or after March 16, 2013. [updated to correct an error in dates].  This dividing line is easy for applications filed before that date (not AIA patents) and for applications filed after that date without any priority claims (AIA patents). The only complicated set are those applications filed post-AIA but that claim priority to a pre-AIA application. For those transition cases, applicants are asked to indicate which category is proper.
I will note that none of the provisions of the totally revised Section 102 have seen any court or PTAB decisions – those are likely still at least one year away – especially since the PTO is favoring applicants in regard to secret sales, offers for sale, and commercial uses (thus, those issues won't be challenged until enforcement-time). Up-to-now, the USPTO has not altered its patent document to include any indication of which law was applied during prosecution.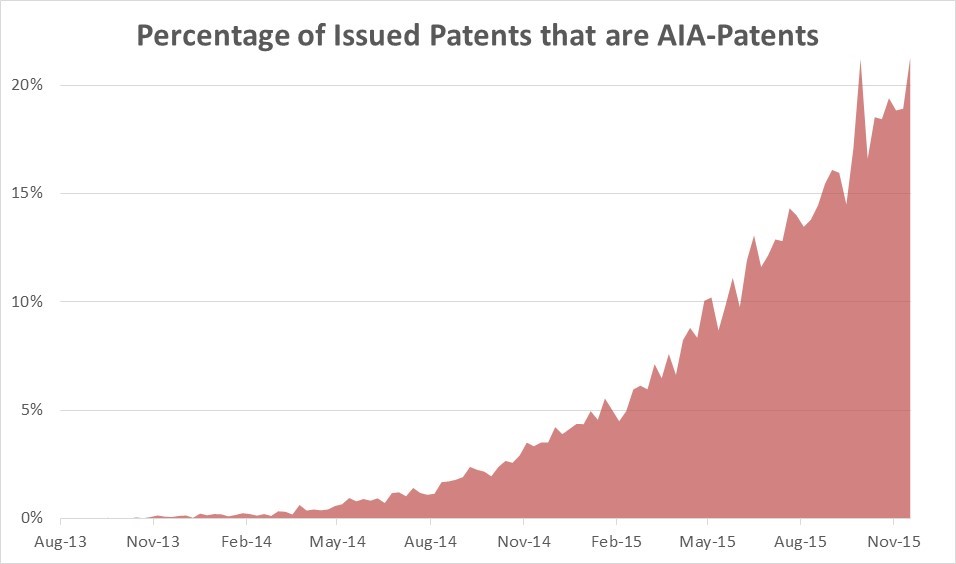 Note: The statute reads as follows:  (1) IN GENERAL.—Except as otherwise provided in this section, the amendments made by this section shall take effect
upon the expiration of the 18-month period beginning on the date of the enactment of this Act, and shall apply to any application for patent, and to any patent issuing thereon, that contains or contained at any time— (A) a claim to a claimed invention that has an effective filing date as defined in section 100(i) of title 35, United States Code, that is on or after the effective date described in this paragraph; or (B) a specific reference under section 120, 121, or 365(c) of title 35, United States Code, to any patent or application that contains or contained at any time such a claim.