The primary goal of the patent system is to encourage innovation – "promote the Progress of Science and useful Arts."  For me, the nature of inventorship is a fascinating pursuit: what are the factors that lead to invention and what are the results of invention?
A major shift over the past few decades in terms of inventors listed on U.S. patents is the rise of team-based inventorship. Back in 1975, the vast majority of U.S. patents were issued to a single inventor.  Since that time, there has been a steady trend toward more inventors-per-patent.  Around 1990 we reached a point where, for the first time, more than than half of US patents listed multiple inventors.  That trend toward more inventors per patents continues today.
Drilling down, the increase is seen in patents with three or more inventors.  The chart below shows the percentage of utility patents with either one listed inventor (downward sloping double line) or three+ listed inventors (upward sloping line).  The drop in the first almost exactly correlates with the rise in the second. Throughout this time, the percentage of two-inventor patents has remained steady at around 25%.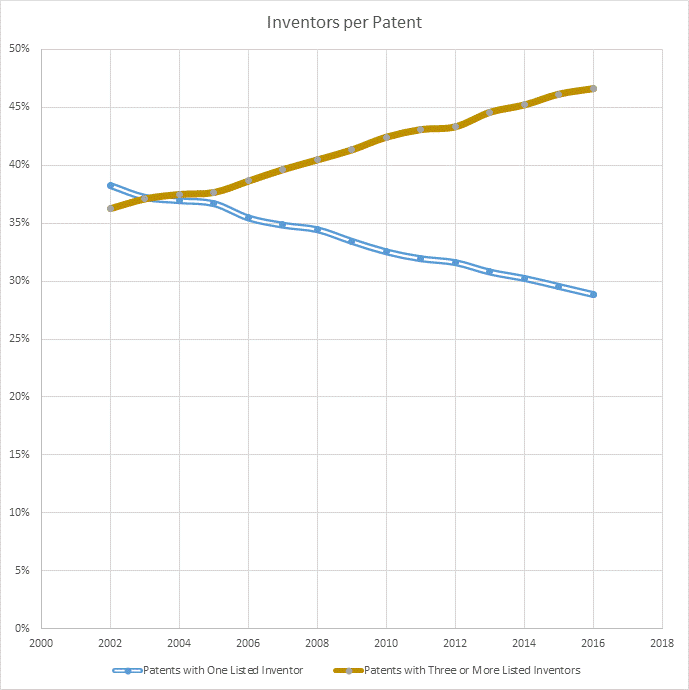 The chart does not offer any causation explanation.  Is the change is due to the nature of the inventions (i.e., more complex subject matter); the increase in team projects in corporate environment; or the politics of patenting (team projects more likely to get funded); or perhaps teams are better at identifying the valuable innovations; etc. We do know that multi-inventor patents tend to do better on patent scorecards and are more likely to be filed internationally, suggesting that their owners place more value on those patents.  In the U.S., un-assigned patents still tend to be single inventor. That factor may be explained by the reality that most cooperative inventorship endeavors set up a partnership or corporate to at least hold the patent rights.   Some areas of technology (esp: biotech & chemistry) tend to have more inventors-per-patent than the mechanical and software areas.
The chart below considers utility patents 2012-2016 and groups them according to the assignee country provided to the USPTO.  For each country, I looked at (1) the average number of inventors per patent; (2) the percentage of patents with 5+ inventors; and (3) the percentage of patents with only 1 inventor.   There is likely an interesting story to tell about Korea & India — why do they list so many inventors per patent?