By Zachary Kinnaird, Patent Attorney with International IP Law Group, PLLC
As an update to last year's write-up on this topic, 1,210 new U.S. patent practitioners earned registration numbers in 2015, a slight rebound from the recent low in 2014 according to data gathered from the USPTO roster. These 2015 results extend a nearly 40% dip over the past six years from recent highs in 2008 and 2009 when around 2000 new practitioners were added each year. Based on Jan-April 2016 registrations, I project about 1,150 new practitioners in 2016.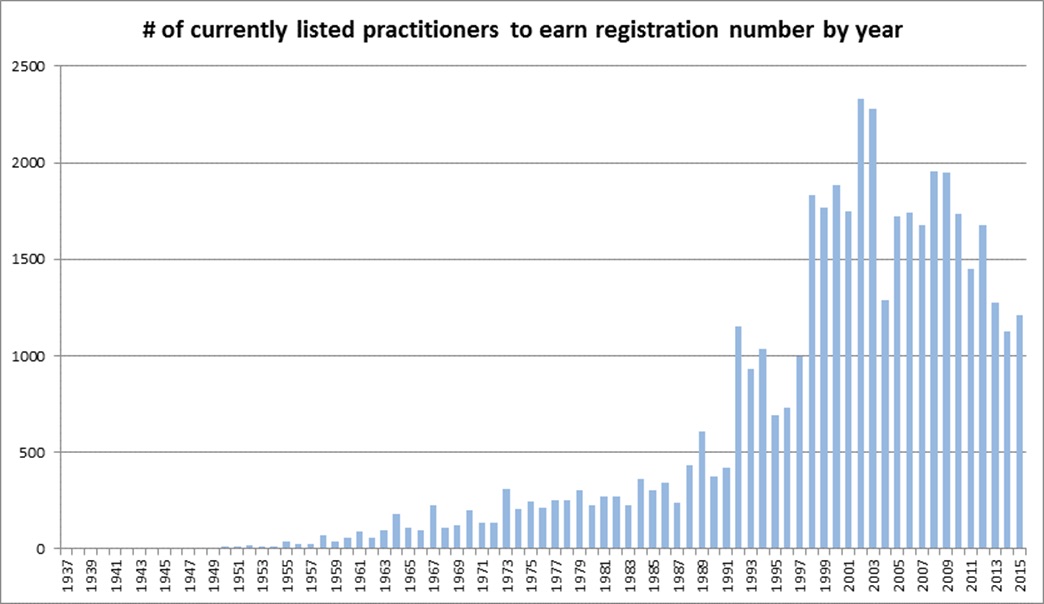 Last year I projected 1,000 new patent agents and patent attorneys would earn their registration number. My prediction missed by ~17% of the final total. However, last year I used only one month's data was to make a year-end prediction, while this year my prediction is made with four months of data as a guide. Otherwise, I used the same methodology for this finding as the previous write-up last year.
The above graph shows only initial registrations.  It does not show changes in which a patent agent becomes a patent attorney, as the practitioner does not receive a new registration number.  The registrations for 2015 indicate that 42.4% of the initial registrations were for patent attorneys and 57.6% were for patent agents (some of whom later became or will become patent attorneys).