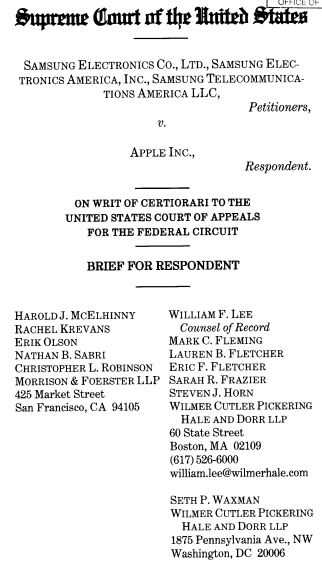 Apple has filed its merits brief defending the longstanding principle of profit-disgorgement as a remedy for design patent infringement. [AppleResponse]
The statute states that an adjudged infringer "shall be liable to the owner to the extent of his total profit." 35 U.S.C. 289.  Apple argues that the lower courts are correct in finding that Samsung should be liable for profits associated with sales of its Galaxy phones that were adjudged to be infringing Apple's iPhone design patents.
Apple writes:
The only issue before this Court is whether Samsung will be able to avoid fairly compensating Apple for its adjudicated infringement. Samsung takes aim at 35 U.S.C. § 289, which provides that a design patent infringer is "liable … to the extent of his total profit" on the "article of manufacture" to which the patented design has been applied. Congress enacted this remedy because it recognized that "it is the design that sells the article" and, because profits attributable to design are often "not apportionable," "[i]t is expedient that the infringer's entire profit on the article should be recoverable, as otherwise none of his profit can be recovered." 18 Cong. Rec. 834 (1887). As the Solicitor General correctly notes (Br. 10-15), Samsung's effort to read an apportionment requirement into § 289 is at odds not only with the statute's plain language, but also with Congress's contemporaneous explanation that the remedy was enacted in response to decisions of this Court taking exactly the approach Samsung now advocates. And as the government also correctly explains (Br. 16-31), identification of the relevant "article of manufacture" on which § 289 allows an award of total profit is a factual question for the jury on which the defendant bears the burden of proof. . . .

Samsung invokes highly speculative policy grounds that it believes justify upending the settled interpretation of a statutory remedy first adopted in 1887, readopted in 1952, and left unchanged since then. Samsung's arguments are addressed to the wrong branch of government: It is not for this Court to decide whether to alter the statutory balance that Congress has chosen and left undisturbed for decades. Samsung's farfetched hypotheticals are just that; and they ignore the reality of this case. Samsung is a sophisticated company that chose to copy the design innovations of its biggest competitor and profited significantly from doing so. That is precisely the type of conduct Congress long ago decided deserves an effective remedy.
What makes this case so big is the numbers involved – Here, the profits disgorged are hundreds of millions of dollars.
Noted design patent attorney Perry Saidman filed an amicus brief supporting Apple's case on behalf of a group of companies that rely upon design patents in their business.  Saidman argues that design patents are critical to allow companies to protect 'visually striking products', and that the profit disgorgement "gives teeth to design patents" in a way that promotes settlements.   [AppleSaidman]
An additional supportive brief was filed on behalf of a group of "113 distinguished industrial design professionals and educators."  The brief – filed by Mark Davies – argues that a product's visual design is critically important in the sales of complex products. "[A] product's visual design has powerful effects on the human mind and decision making processes, and eventually comes to signify to the consumer the underlying function, origin, and overall user experience of that product. [AppleDesigners]
The these two friend-of-the-court briefs are interesting in that they essentially make the same argument that I made in my old paper on Design Patents as Trademarks.
= = = = =
Oral arguments for the case are set for October 11, 2016 in Washington DC.