by Dennis Crouch
Part of President-Elect Trump's focus is on short-term "economic nationalism" — what we call "America First" and against the "false song of globalism."  In a set of upcoming posts we'll walk through what this could mean for the U.S. Patent System. I expect that the answers will depend upon whether we are looking primarily for short-term gains and the measures of economic prosperity (e.g., median household income vs. stock valuation).
Although the U.S. has long operated in an international environment, we have been inwardly focused for most of the past 200 years.  During this time, the vast majority of U.S. patents were issued to U.S. entities.  What this meant was that the Patent system caused a shift in wealth within the U.S. (from consumers/competitors to patentees) with the benefit of better technology and more technical disclosures – a fairly efficient system so long as not eaten-up by transaction costs.  The change today is that most U.S. patents are issued to foreign entities or are foreign-originated.  What this means for the calculus is that the shift-in-wealth is leaving U.S. borders rather than staying put.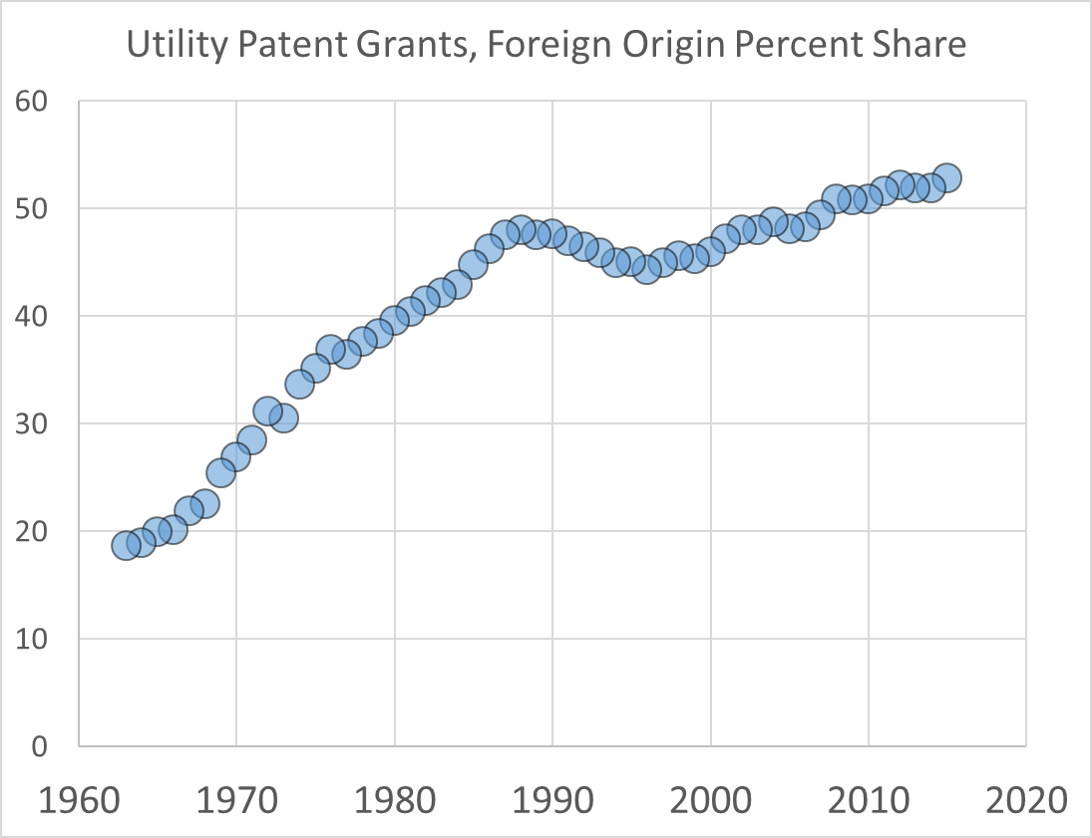 Of course, the U.S. allows foreign entities to obtain U.S. patents because of the mutual obligations of the Paris Convention (1893) and TRIPS (1995) that require foreign states create significant patent systems and allow U.S. entities to obtain patents in those foreign states.  The now disfavored TPP was designed to further strengthen the requirements on our trading partners for enforcing intellectual property rights. Important questions: What patriotic renegotiation of these agreements might further benefit the U.S.? Barring that, wow can the USPTO and Courts conform to the international obligations while better serving U.S. interests?  Of course, all of this has the potential of pushing the U.S. much closer to a trade war.
In an email, Prof. Mark Lemley suggests that we should look for "a rise in the importance of the ITC as we focus on blocking imports."   The ITC's primary goal is to protect U.S. industries against unfair international trade.  Lemley writes: "One interesting question is whether Trump will move the ITC's jurisdiction back to its roots by insisting on a real domestic industry requirement."  Additional ITC movement could push-back against U.S. patents that are owned by foreign nations or unduly subsidized by a foreign nation.
Today (Nov 22, 2016), the Supreme Court is considering whether to grant certiorari in Lexmark v. Immersion Prods. that focuses on both domestic and international patent exhaustion.  Although the Federal Circuit's rule that gives extra rights to holders of U.S. patents (no international exhaustion) appears at first glance to be an "America First" principle.  However, In their 2016 article, Hemel & Ouellette explain that the opposite rule would be the one more likely to "lower prices of patented goods in the United States and raise prices abroad."  All of this fits somewhere within the old economic arguments over mercantilism.  See Hemel & Ouellette, Trade and Tradeoffs: The Case of International Patent Exhaustion, 116 Colum. L. Rev. Sidebar 17 (2016); Glynn Lunny, Copyright's Mercantilist Turn, 42 Fla. St. U. L. Rev. 95 (2014); Guy Rub, Rebalancing Copyright Exhaustion, 64 Emory L. J. 741 (2015).