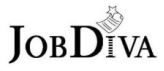 by Dennis Crouch
Here, the Federal Circuit rejects the TTAB's requirement for "something more" than selling software in order to protect a service mark. The court instead redirects the inquiry to ask whether provisioning of the software provides the indicated service. 
In re JobDiva (Fed. Cir. 2016) [JobDiva]
Service Mark: JobDiva holds two registrations for its name JobDiva for use in job placement services and computer services for facilitating job placement.
Tables Turned: After JobDiva brought an action to cancel its competitor's JobVite mark, the Board turned the table and instead cancelled JobDiva's marks — finding the marks abandoned because JobDiva had failed to prove use in connection with the appropriate classes.  Namely, although JobDiva did use its mark to identify its software — selling software is not providing a job placement service.
A term that only identifies a computer program does not become a service mark merely because the program is sold or licensed in commerce. . . . Such a mark does not serve to identify a service unless it is also used to identify and distinguish the service itself, as opposed to the [computer] program.
The Lanham Act provides for cancellation on grounds of abandonment. "Nonuse for 3 consecutive years shall be prima facie evidence of abandonment."  Adding to this, the Federal Circuit has previously ruled that the abandonment question should focus on whether "the mark has not been used for the goods or services specified in the registration" during that time period. See On-Line Careline, Inc. v. Am. Online, Inc., 229 F.3d 1080 (Fed. Cir. 2000).
Software Service: On appeal here, the Federal Circuit has vacated the abandonment decision – holding that the Board asked the wrong question about JobDiva's use.
The Board required JobDiva to prove that it used its marks on more than just software because its software sales alone could not, in the Board's view, constitute personnel and recruitment services. We disagree with the Board's approach. The proper question is whether JobDiva, through its software, performed personnel placement and recruitment services and whether consumers would associate JobDiva's registered marks with personnel placement and recruitment services, regardless of whether the steps of the service were performed by software.
The decision here makes sense and takes a practical approach that fits with the ongoing trend of providing software as a service rather than a product.