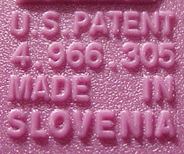 Rembrandt Wireless v. Samsung (Fed. Cir. 2017)
A jury found for Rembrandt and awarded $15.7 million in damages. On appeal, the Federal Circuit has affirmed on infringement and validity – but rejected the lower court's finding that the patent had been properly marked.
Back-damages for patent infringement is a bit interesting. The marking statute creates a constructive notice regime for sales of 'patented articles' and then cuts-off damages for failure to mark those articles: 
In the event of failure so to mark, no damages shall be recovered by the patentee in any action for infringement, except on proof that the infringer was notified of the infringement and continued to infringe thereafter, in which event damages may be recovered only for infringement occurring after such notice. Filing of an action for infringement shall constitute such notice.
35 U.S.C. § 287.  The marking requirement does not apply only to patentees, but also to "any persons" making or selling the invention "for or under" the patentee.  The courts have interpreted this requirement then as applying to a patent licensee — "thereby limiting the patentee's damage recovery when the patented article is not marked" by the licensee.  Quoting Amsted Indus. Inc. v. Buckeye Steel Castings Co., 24 F.3d 178, 185 (Fed. Cir. 1994).
Here, Rembrandt had previously licensed the patent at-issue (U.S. Patent No. 8,023,580) to Zhone Tech who sold unmarked products allegedly embodying claim 40 of the patent.  (Zhone was not required to mark under the license agreement).
As soon as Samsung sought to limit its potential damages to the date of actual-notice, Rembrandt dropped its allegations that Samsung infringed claim 40 and also filed a statutory disclaimer with the USPTO disclaiming claim 40.  Samsung was later found to infringe other remaining claims of the patent – and the district court ruled that the disclaimer was sufficient to cure the marking problem.
On appeal, the Federal Circuit disagrees:
Rembrandt's position, adopted by the district court, effectively provides an end-run around the marking statute and is irreconcilable with the statute's purpose. Allowing Rembrandt to use disclaimer to avoid the consequence of its failure to mark undermines the marking statute's public notice function. . . .

The marking statute protects the public's ability to exploit an unmarked product's features without liability for damages until a patentee provides either constructive notice through marking or actual notice.
Disclaiming a patent claim does not later erase the fact that the claim was previously in effect and had not been properly marked.
The Court suggested a potential question of whether the focus should be claim-by-claim rather than patent-by-patent, but declined to rule on that issue because it had not been properly raised on appeal.   On remand, the district court will be asked to look into that question and – if needed – recalculated the damage award.
= = = = =
The case here offers an important distinction – in my mind – between a patent license and a covenant-not-to-sue. Any reasonable license that covers an 'article' would include the marking requirement.   In my mind (although perhaps not the court's) a mere covenant-not-to-sue should not fall under the marking requirement.
= = = = =
Typical Marking License Language: Licensee mark all Licensed Products made or sold in the United States with an appropriate patent marking. All Licensed Products shipped to or sold in other countries must be marked in such a manner as to provide notice to potential infringers pursuant to the patent laws and practice of the country of manufacture or sale.  Licensor shall have the right to inspect Licensee's Licensed Products to determine if Licensee is marking in accordance with this paragraph.