by Dennis Crouch
A patent's legally effective term is calculated based upon its filing date.  Delays in issuance would seemingly lead to a reduction of patent term.  However, through a series of legislative initiatives, Congress created a system of Patent Term Adjustment to compensate patentees for delays in patent issuance.  Most PTA is added based upon PTO failure to timely issue office actions (A Delays) or to issue the patent within three years of the filing date (B Delays).  However, patents with the longest PTA are generally those associated with interference proceedings, secrecy orders or successful appeals (C Delays).
Today, most patents are awarded some patent term adjustment, but the numbers continue to drop as shown by the two charts below. The first chart shows the percentage of US utility patents issued with at least some PTA being awarded. The second chart shows the average PTA award of those patents with PTA.  In the second chart the discrete jump followed Wyeth v. Kappos (Fed. Cir. Jan. 7, 2010). In that case, the Federal Circuit held that the PTO had been misreading the statute and thus undercounting PTA.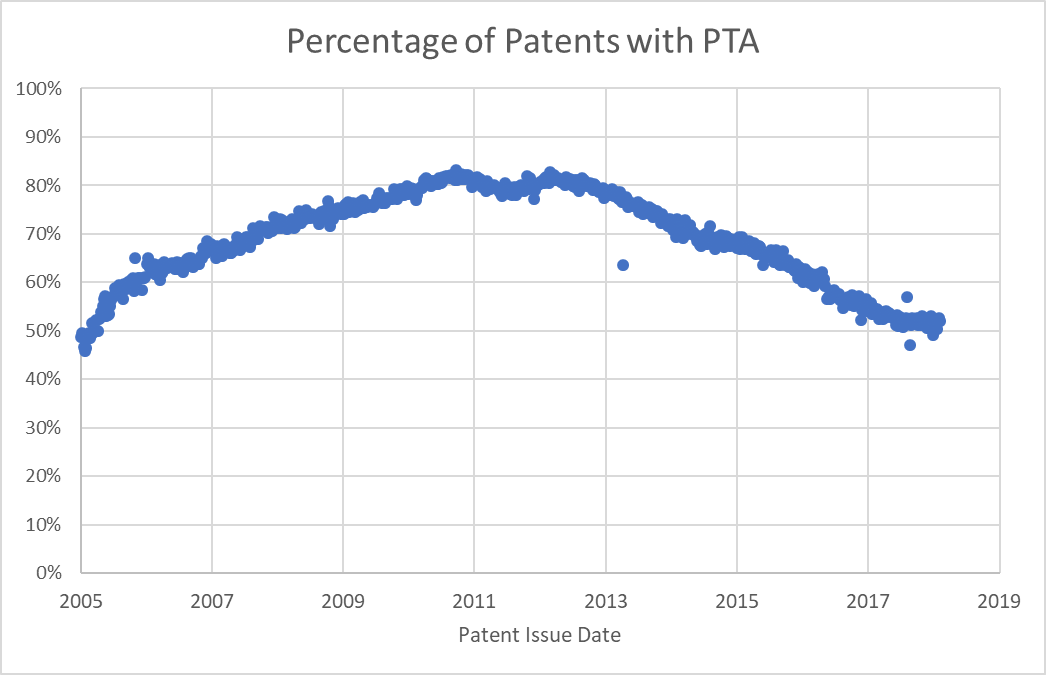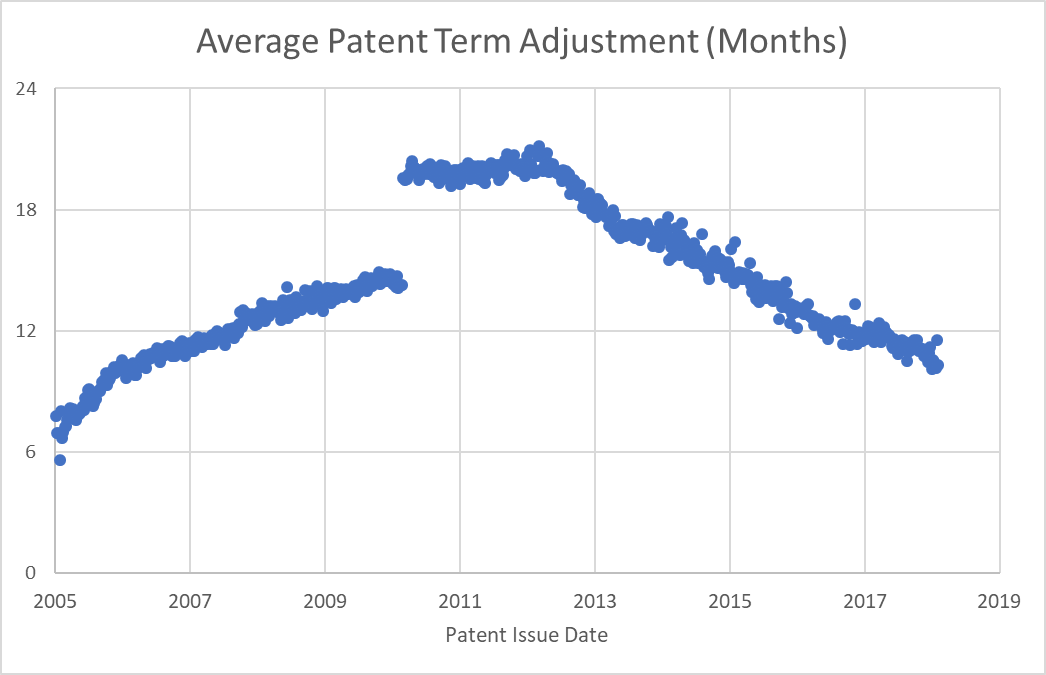 In Actelion Pharm., Ltd. v. Matal (Fed. Cir. Feb. 6, 2018), the Federal circuit sided with the PTO in a patent term adjustment challenge holding that the PTA calculations beginning with a national-stage application were not triggered by the patentee's statement that it "earnestly solicits early examination and allowance of these claims."  The problem was that "casual" request was buried within the remarks while the applicant failed to check the box on the form to expressly request.
In a separate recently decided PTA case, a district court has agreed with Ariad that its original RCE filing should only cut-off PTA accumulation since the PTO negligently failed to process the filing (instead sending a notice of abandonment) and then took three months to withdraw the abandonment.  ARIAD Pharm., Inc. v. Matal, 1:17-CV-733, 2018 WL 339141, at *1 (E.D. Va. Jan. 5, 2018)