In re Wang (Fed. Cir. 2018) (nonprecedential)
In a non-precedential decision, the Federal Circuit has rejected George Wang's pro se appeal — affirming the PTAB judgment that Wang's claimed phonetic symbol system lacks eligibility under Section 101.
The baseline here is that the written english language is only quasi-phonetic.  Every rule of spelling or pronunciation has layers of exceptions.  Linguists have developed a phonetic pronunciation guides, but those use quirky non-english letters.  Wang's invention here offers a one-to-one system tying each vowel and consonant sound to a single phonetic symbol, and uses only English letters for the phonetic symbols. Table 1 below comes from Wang's patent application and offers an example embodiment of his system: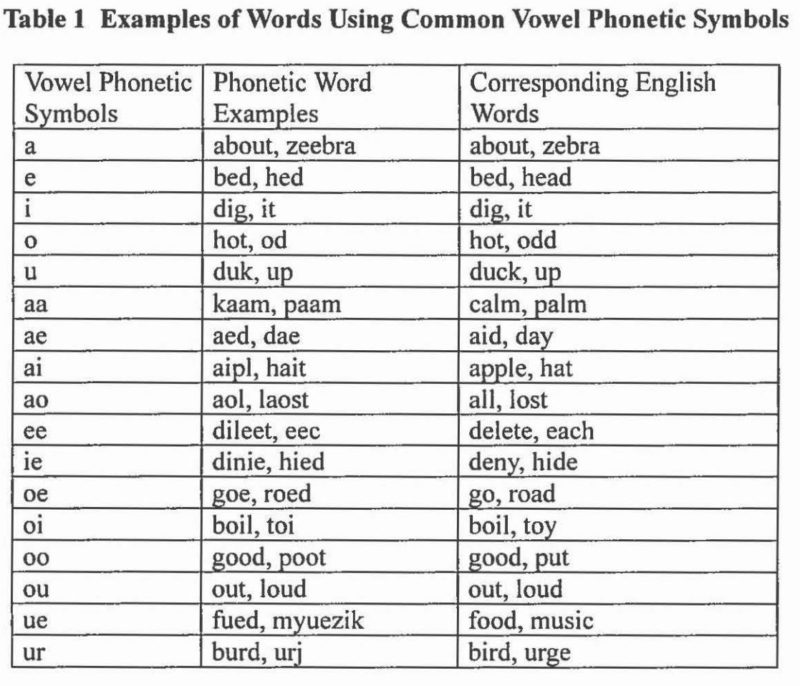 The claim (slightly edited for clarity):
A phonetic symbol system comprising:

a plurality of phonetic symbols,

wherein each of said phonetic symbols is defined by one (or more than one) letter of English alphabet, the case or the style of said letter does not affect the sounds of said phonetic symbols,

[said phonetic symbols include] vowel phonetic symbols and consonant phonetic symbols . . . ,

each vowel [sound] is distinctively represented by one of said vowel phonetic symbols, and each consonant [sound] is distinctively represented by one of said consonant phonetic symbols.
Rather than reaching the more controversial aspects of eligibility, the court here first focused on the statutory requirement that a patent must be directed to a "process, machine, manufacture, or composition of matter." 35 U.S.C. 101.  Since the claim is not directed to any concrete physical form, it cannot be a machine, manufacture, or composition of matter.  Further, because the claim does not actually require performance of any steps, then it cannot be defined as a process.
Without analysis, the court also agreed with the PTO that "defining phonetic symbols in language, using strings of English letters, is an unpatentable abstract idea" and  that the claims offer nothing beyond the abstract idea:
[W]here, as here, claims of a patent application recite an abstract idea, the question becomes whether they contain "additional features" that embody an "inventive concept," so as to nevertheless make them patenteligible. Alice Corp. Pty. Ltd v. CLS Bank Int'l, 134 S. Ct.
2347 (2014). The application claims on appeal, however, contain no "additional features" of any kind embodying an inventive concept. The claims merely encompass strings of English letters representing sounds. In short, there is no inventive concept that rescues them from patent ineligibility.
Rejection affirmed.
As the old saying goes, part of Mr. Wang's problem is that he "has a fool for a client."  Patent law and procedure is at such a high level of complexity that it very rarely makes sense for an inventor to represent himself — especially at the appellate level.
My question for the patent attorneys and agents here: Is there a way for Wang to turn this case around by amending the claims so that they recite a particular method.  [Read the application here: https://patents.google.com/patent/US20130054227]  Is this the type of idea that patent law should cover?  Consider U.S. Patent No. 7,004,758.