by Dennis Crouch
In July 2018, Amgen filed its petition for certiorari asking the Supreme Court to reject the Federal Circuit's imposition of separate "written description" and "enablement" requirements along with their various requirements and standards.  Amgen argues that the Court should simply follow the statute — requiring "a written description of the invention . . . in such full, clear, concise, and exact terms as to enable any person skilled in the art to which it pertains . . . to make and use the same."  Amgen Inc. v. Sanofi, Aventisub LLC, SCT Docket No. 18-127 (Petition filed July 23, 2018) (Cert Petition).
The basic push here is against the "possession" standard that serves as the core of the Federal Circuit's written description requirement.  Apart from any policy arguments — Amgen argues that the statute spells out the test — and it is enablement, not possession.  Rather than focusing on what the inventor possesses, the Act requires the specification simple teach others — "as to enable an person skilled in the art . . . to make and use" the invention.
The brief provides a statutory linguistic argument that makes sense — the "grammatical structure [is] inescapable" and shows that statute provides one standard for judging the written description — the enablement standard.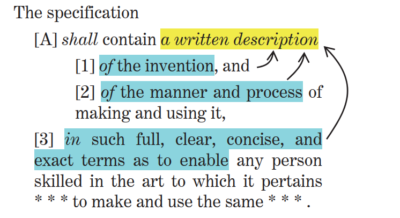 This statutory argument goes a long way, but in my view will lack compelling force to the Supreme Court (as it did for the Federal Circuit in Ariad).  Rather, for 112(a), historical cases are the key since the language of 112(a) all stems directly from the Patent Act of 1793.  A grammar diagram (seemingly based upon modern language usage) is a rather weak argument for interpreting this olde language.  Rather, a successful argument here should seen in light of the history of the statute and how it has been directly addressed by the Supreme Court over the past 225 years.  In Ariad, the Supreme Court looked particularly to the Supreme Court decision in Schriber-Schroth Co. v. Cleveland Trust Co., 305 U.S. 47 (1938) as recognizing a separate written description (possession) requirement that goes beyond mere enablement.  Although the cert petition repeatedly cites Schriber-Schroth it doesn't actually address the portion relied upon by the Federal Circuit that served as the crux of its decision.