Johnstech Int'l Corp. v. JF Microtechnology SDN BHD, 315 F. Supp. 3d 1130 (Cal. Dist. Ct. App. 2018).
In 2009, Malaysian manufacturer JFM offered to make integrated circuits test contactors for Johnstech.  However, since Johnstech was already producing its patented ROL 200, the company declined. Shortly thereafter, Johnstech learned from customers that a ROL 200 "clone" was in the market, namely Zigma – produced by JFM. Johnstech sued and won an infringement verdict along with lost profits and a permanent injunction based upon testimony "that JFM and Johnstech were effectively the only two suppliers in the market they served, and … that 99% of JFM's Zigma sales were made to former Johnstech customers." See U.S. Patent No. 7,059,866.
After the verdict, JFM asked for a new trial or JMOL on obviousness grounds. At trial, JFM had challenged the patent based upon three prior art references, and Johnstech defended by focusing on, among other things, the first Graham factor – "scope and content of the prior art."  In particular, the patentee argued one of the cited references (Rathburn) should not count as prior art for the obviousness analysis because it was not "relevant prior art." Although Rathburn was directed to IC test equipment, it exhibited a "multitude" of differences from the claimed invention.  The District Court explained:
[Johnstech' witness] testified that the Rathburn invention is designed to test a "ball grid array IC device" unlike the device that the'866 patent is designed to test, which has "metal leads on the edges." Andres explained that the Rathburn invention differs from the '866 patent in a "multitude of ways." For example, Rathburn lacks a housing, and instead of two round elastomers, Rathburn uses a "thin sheet of elastomer" with "perforations" and has a "grid of contacts" instead of "rows of contacts."
Although obviousness is a question of law, the underlying Graham factors are questions of fact for the jury to decide.  Of course, the jury was not asked to spell out its decision-making process other than yes/no on the ultimate question of obviousness.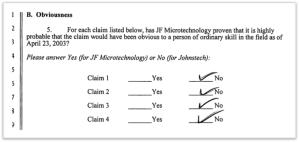 In its post-verdict decision, the court supported the jury verdict of nonobviousness by giving deference to "the jury's presumed factual findings" –holding particularly that the presumed finding that "Rathburn is not relevant prior art" was not "contrary to the clear weight of the evidence."
The infringement verdict here appears based upon a doctrine of equivalents finding for several claim elements.  In its post-verdict decision, the District Court again supported the jury verdict – finding that the presumed DOE verdict was supported substantial evidence.
The case is subject to pending cross appeals at the Federal Circuit and so we will look for more guidance going forward.