In Schirripa v. US, the Federal Circuit recently issued an interesting order:
Appellant Jeffrey Nathan Schirripa submitted to the court 18 copies of his confidential petition for panel rehearing and rehearing en banc. Upon examination, Appellant affixed to each petition what appear to be samples of cannabinoids, which may be controlled substances possessed or mailed in violation of federal law.

IT IS ORDERED THAT:

The Clerk of Court is directed to transmit these 18 documents to the U.S. Marshals Service for appropriate disposition or alternate action within the purview of the U.S. Department of Justice.
[SchirripaOrder] In the underlying case, Schirripa asked the Court of Federal Claims to enjoin the US Government from enforcing the Controlled Substances Act against his actions.  The court dismissed that case and the dismissal was affirmed on appeal.  Good luck Mr. Schirripa, and don't tip the judges.
The cannabis attachment was apparently intended to create subject matter jurisdiction in the case.  I don't fully understand the Schirripa's flow chart, but it appears to be a boot-strap version a catch-22 for the court — the type of argument that you might figure out while high.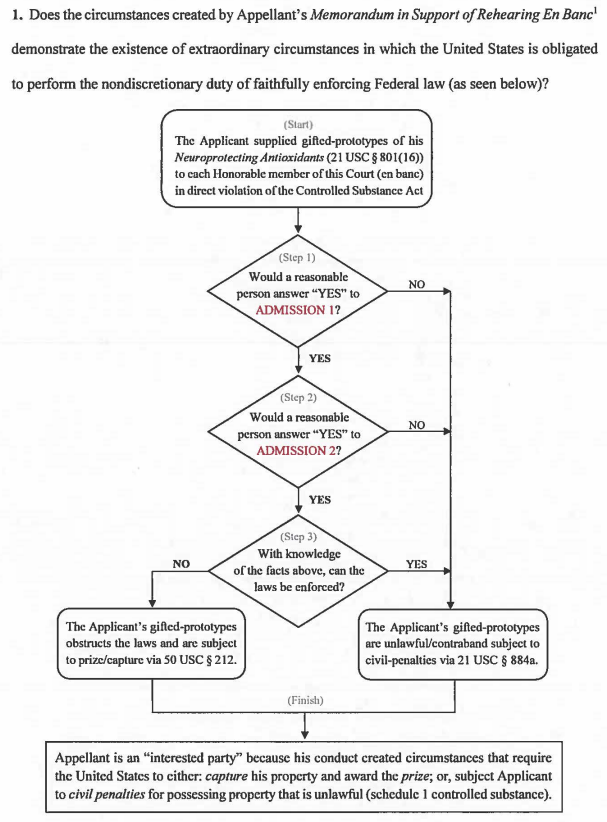 Read the en banc brief. [SchirripaEnBancBrief]