by Dennis Crouch
Acceleration Bay, LLC v. Activision Blizzard Inc., Docket No. 17-2084 (Fed. Cir. 2018)
This consolidated appeal involves 12 different inter partes review proceedings collectively challenging three Acceleration Bay patents.[1] The patents at issue here are all related to methods of broadcasting information over a peer-to-peer network.  The basic approach here is to ensure that the network is sufficiently connected and then send data through each node to its neighbor participants.  I made the gif below that provides a simple example.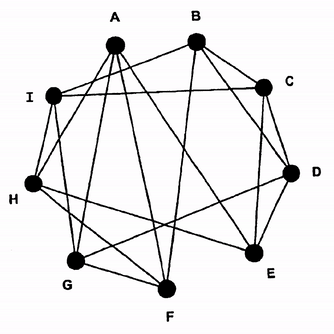 The PTAB split in its decision – finding many of the challenged claims obvious but some patentable.[2]  The decision involves a few patent attorney inside questions:
If a claim has no transition phrase, is it all body? Some of the challenged claims had no transition phrase such as "comprising" — Claim 1 of the '966 patent is on point:
1. A computer network for providing an information delivery service for a plurality of participants, each participant having connections to at least three neighbor participants, wherein an originating participant . . .
On appeal, the patentee argued that "information delivery services" should be seen as a limiting claim term — because it is part of the body of the claim — rather than a non-limiting portion of the preamble. Here, challenged term appears toward the start of the claim, but the patentee argues that the claim is all-body (and therefore is all limiting).  On appeal, the Federal Circuit sided with the PTAB that the term was part of the preamble and was non-limiting. The court writes "Acceleration's poor claim drafting will not be an excuse for it to infuse confusion into its claim scope."  Note here that the patents originally belonged to Boeing and were prosecuted by Perkins Coie.
Printed Publication: In its cross-appeal, Blizzard argued that a particular reference ("Lin") should count as a prior art printed publication. The article in question is captioned:
Meng-Jang Lin, et al., Gossip versus Deterministic Flooding: Low Message Overhead and High Reliability for Broadcasting on Small Networks, Technical Report No. CS1999-0637 (Univ. of Cal. San Diego, 1999).
The unchallenged testimony was that the article by Lin was uploaded to the UCSD Computer Science and Engineering website (on a page of CSE technical reports).  The upload took place in 1999 before the critical date for the patents and the site was indexed and searchable – although the search function was limited. Still, the PTAB found that the document was not "published" — a conclusion affirmed on appeal. 
To qualify as a "publication" the document must either (1) be actually distributed to the public or (2) be publicly available. Because there was no evidence that the document actually reached members of the public, the focus was on the second prong, public availability.  The question here: "whether an interested skilled artisan, using reasonable diligence, would have found Lin on the CSE Technical Reports Library website."  Although the site was indexed and searchable, the PTAB concluded that the search function was limited and that the evidence only "suggests that an artisan might have located Lin by skimming through potentially hundreds of titles in the same year, with most containing unrelated subject matter, or by viewing all titles in the database listed by author, when the authors were not particularly well known."
Treating public accessibility as a factual determinatoin, the Federal Circuit affirmed — finding that "[s]ubstantial evidence supports the Board's finding that there "is insufficient evidence of record to support a finding that a person of ordinary skill in the art in 1999 could have located Lin using the CSE Library website's search function."
= = = =
As noted above, a critical factor in the Federal Circuit's analysis was the deference given to PTAB fact finding — holding that public accessibility is a question of fact.
Whether a reference qualifies as a printed publication under § 102 is a legal conclusion based on underlying fact findings. Jazz Pharm., Inc. v. Amneal Pharm., LLC, 895 F.3d 1347, 1356 (Fed. Cir. 2018); accord Cooper Cameron Corp. v. Kvaerner Oilfield Prod., Inc., 291 F.3d 1317, 1321 (Fed. Cir. 2002). One such fact question is public accessibility, which we review for substantial evidence. Jazz Pharm., 895 F.3d at 1356.
In a prior post, I walked though a series of low quality citation strings on the question of whether public-accessibility is a question of fact (or instead a question of law).
Here, the court cites Jazz Pharma, and Jazz Pharma does include the holding that "[p]ublic accessibility is a question of fact."  Jazz Pharma justifies this holding with a citation to In re NTP, Inc., 654 F.3d 1279 (Fed. Cir. 2011). NTP also includes the short statement that "publicly accessible is a question of fact," again without any reasoning or explanation other than a citation back to In re Klopfenstein, 380 F.3d 1345 (Fed. Cir. 2004) along with the parenthetical (holding that whether a reference is publicly accessible is based on the "facts and circumstances surrounding the reference's disclosure to members of the public").  It turns out though that Klopfenstein did not actually make that holding. Once again, this citation string goes back to nowhere.
= = = =
[1] IPR2015-01951, IPR2015-01953, IPR2015-01964, IPR2015-01970, IPR2015-01972, IPR2015-01996, IPR2016-00933, IPR2016-00934, IPR2016-00935, IPR2016-00936, IPR2016-00963, IPR2016-00964.
[2] "Claims 1–9 of U.S. Patent No. 6,829,634, claims 1–11 and 16–19 of U.S. Patent No. 6,701,344, and claims 1–11 and 16–17 of U.S. Patent No. 6,714,966" were all found invalid. "Claims 10–18 of the '634 patent, as well as substitute claims 19 of the '966 patent, 21 of the '344 patent, and 25 of the '634 patent" were all found patentable.