by Dennis Crouch
Artist Christopher Boffoli is known for his detailed photographs contrasting small people with large food. In 2015, Atemis LLC allegedly posted a couple of images of Boffoli works on Facebook and mis-attributed the works to other artists in the same small-people-large-food genre.  Atemis has a food-ordering app called "Let Eat Go" and the FB posts were in conjunction a FB page for the app.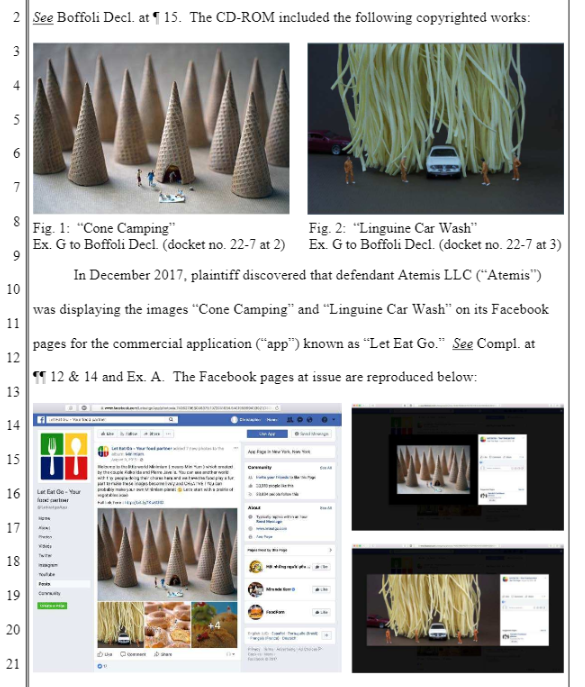 Two years later – December 2017, Boffoli discovered the use of his images and then sued for copyright infringement in 2018. I'll note that naming-the-wrong-artist itself is not copyright infringement, but may have triggered Boffoli enough to sue.
Atemis did not show up to court and so the clerk awarded default under FRCP 55(a).
Entering a Default. When a party against whom a judgment for affirmative relief is sought has failed to plead or otherwise defend, and that failure is shown by affidavit or otherwise, the clerk must enter the party's default.
R.55(a).  After a bit of back-and-forth with the Judge, the court has now also awarded Default Judgment under R. 55(b) for $15,000.
When the complaint asks for a "sum certain," then the court clerk will simply enter that amount as the default judgment. R. 55(b)(1).  Here, the plaintiff asked for $150,000 as a statutory damages for willful infringement.  However, the district court implicitly ruled that 55(b)(1) doesn't apply — perhaps since the copyright act expressly puts the calculation of statutory damages in the hands of the judge.
[C]opyright owner may elect … statutory damages … in a sum of not less than $750 or more than $30,000 as the court considers just. . . . In a case where the copyright owner sustains the burden of proving, and the court finds, that infringement was committed willfully, the court in its discretion may increase the award of statutory damages to a sum of not more than $150,000.
Here, the court first ruled that the evidence submitted in its motion for default judgment was not sufficient to prove willful infringement.  The court then found that $15,000 was the "just" amount.
Atemis may still escape judgment on personal jurisdiction. It may turn-out that the W.D. Washington court has no personal jurisdiction over the Delaware company. In that case, the default judgment would be void under R. 60(b)(4).
Boffoli has been a frequent copyright litigant — having filed more than a dozen additional infringement suits over the past decade.