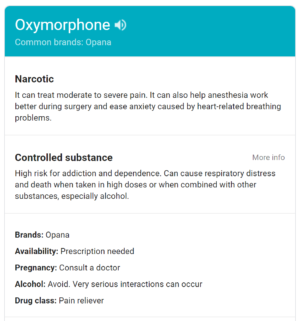 Endo v. Actavis (Fed. Cir. 2019)
Obviousness is a tough issue to appeal because its flexible fact-heavy analysis lends itself to giving deference to the fact-finder.  This is a case-in-point.
Endo is the exclusive licensee of Mallinckrodt's U.S. Patent 8,871,779 covering a form of the opioid oxymorphone.  Claim 1 is directed to a highly pure form of "oxymorphone" with "less than 0.001% of 14-hydroxymorphinone."
Actavis argued that the claims were invalid as obvious.  However, following a bench trial the Delaware district court sided with the patentee — holding that the claims had not been proven invalid with clear and convincing evidence.
The district court did make a major legal mistake — holding that confidential communications between the FDA and oxymorphone producers (including the patentee) were not prior art.  In the communications, the FDA "mandated that opioid
manufacturers reduce ABUK impurities in oxycodone and oxymorphone to below 0.001%" — the exact result claimed by Mallinckrodt. On appeal, the Federal Circuit found the communications prior art under pre-AIA § 102(f) ("A person shall be entitled to a patent unless (f) he did not himself invent the subject matter sought to be patented.").  Note that 102(f) was eliminated by the AIA and so this type of confidential communication will likely not be counted as prior art in future cases.
On appeal, the Federal Circuit held that the FDA communication – despite being prior art – did not show that the claims were obvious. Although the communications expressly set out the low-impurity goal and was the motivational force for the research, it did not set out the solution created by the patentee.
The majority opinion was penned by Judge Wallach and joined by Judge Clevenger.  Judge Stoll wrote in dissent — arguing that the error was not harmless.  In particular, the FDA mandate actually expressly discloses every limitation found in claim 1, "yet, the district court determined that this mandate did not disclose 'anything substantive relevant to obviousness.'"
While we owe deference to a district court's factual findings, such deference is not due where the trial court applies the incorrect standard to arrive at those findings. I would vacate the district court's decision and remand for a proper analysis under the correct legal standards.
According to the dissent, the FDA statement would have provided substantial motivation to combine prior art references that worked toward the proffered solution.
= = = = =
102(f) what have we lost: Inventor is given secret information that leads to creation of the invention.  That information is a 102(f) reference under pre-AIA law and can also be used to as part of an obviousness argument. Post-AIA, the provision was wholly eliminated except that the law still supports a narrow action for complete derivation.