From today's NYTimes Opinion Piece:
The knockout punch for farmer-controlled seed was the utility patent. In a landmark (and utterly bananas) decision in 1980, the Supreme Court ruled in favor of allowing patents on living organisms. It wasn't long before the same protections were extended to crops. New advances in genetic engineering supported the argument, with companies claiming seeds as propriety inventions rather than part of our shared commons. Utility patents restricted farmers' freedom to save and exchange seed and breeders' right to use the germplasm for research. . . .

On his Oregon farm, Frank Morton produces 146 varieties of organic lettuce, 88 of which he created. His lettuces … are coveted by top chefs for their distinct colors, flavors, crispiness and butteriness. In three decades of breeding, he has never filed for a patent on his lettuce varieties, because he wants others to build on his work. "Patents are completely unethical. We all need access to traits. My varieties are probably being used to create new varieties right now. I love that."
Dan Barber, Save Our Food. Free the Seed (June 7, 2019).
Plant Patents: This week, the USPTO issued a number of plant patents, which cover new varieties of asexually reproduced plants.
Whoever invents or discovers and asexually reproduces any distinct and new variety of plant, including cultivated sports, mutants, hybrids, and newly found seedlings, other than a tuber propagated plant or a plant found in an uncultivated state, may obtain a patent therefor, subject to the conditions and requirements of this title.
35 U.S.C. 161.  Like utility patents, plant patents last for 20 years from the filing date.  Plant patents are examined under the same provisions as utility patents: patentable subject matter, utility, novelty, obviousness, and disclosure (35 U.S.C. 101, 102, 103, and 112) with a bit of leeway definiteness (like design patents, the claims are generally directed to the plant as "shown and described").
It is a bit tricky here to understand how self-injury prior art works with plant patents. Most new varieties take several years to cultivate to ensure that the the variety is distinct through successive generations of asexual propagation.  Growing of the crops (and presumably selling the fruit) would have the look of prior art on sale and public use activity (as well as being "otherwise available to the public).
Take PP30,551, covering a new apple variety that issued this past week. The patent states that the new variety was first observed in 2009 as a "spontaneous limb mutation" in an commercial orchard and then cultivated (by grafting) from 2011 until the application Australian priority filing date in 2016.
During examination, the examiner did require the applicant to provide any evidence that regarding the public nature of the invention from 2009-2011.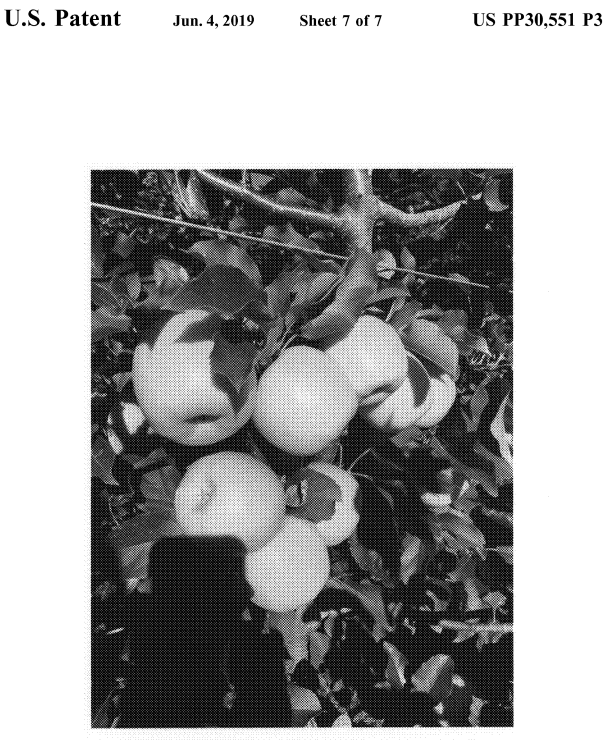 Going back up to the NYTimes article and the Lettuce farmer.  There are no plant patents on lettuce because lettuce is sexually propagated.  Lettuce can still be protected under the USDA administered Plant Variety Protection Act (PVPA) — also for 20 years.  So far in 2019, the USDA has issued 222 PVPA certificates — 5 of which cover new varieties of lettuce.  (Most of the new certificates have been issued to Monsanto).