Greenblum & Bernstein, P.L.C.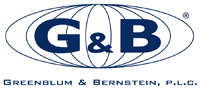 is looking for a junior or mid-level patent prosecution associate with an electrical engineering or computer-science/engineering background.  The firm is looking to involve the junior or mid-level associate in all aspects of patent prosecution.  Thorough training will be provided.  Responsibilities for this position include preparing and prosecuting patent applications, conducting validity and infringement studies, and assisting in pre-litigation and litigation matters when called upon.  The ideal candidate has a degree in electrical engineering, computer engineering or computer science, and excellent academic credentials and writing skills.  This candidate preferably has one or more years of experience in patent prosecution, either practicing at a firm or as an Examiner at the U.S. Patent and Trademark Office.  The candidate must be registered or eligible to register to practice before the United States and Trademark Office.  Competitive salary commensurate with experience.
Greenblum and Bernstein, P.L.C. is an established Northern Virginia-based IP boutique with a wide-range of domestic and international clientele.
Contact
Apply by emailing the firm at: resumes@gbpatent.com.
Additional Info
Employer Type: Law Firm
Job Location: Reston, Virginia