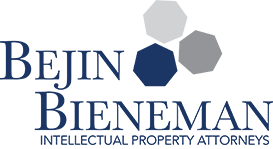 Bejin Bieneman, PLC, is seeking a Patent Associate to join the firm and help support our diverse and growing intellectual property law practice. You will prepare and prosecute patent applications in electronics, software, controls, electro-mechanical, and mechanical arts, and assist in intellectual property litigation and opinion work.
The successful candidate must have USPTO registration and 2-5 years of experience in patent preparation and prosecution. Trademark experience and/or experience in contested matters would be a plus.  A degree in electrical engineering, computer engineering, computer science, mechanical engineering, or physics is required.
Bejin Bieneman is a boutique full-service intellectual property law firm with a national practice based in Southfield, Michigan. We are committed to growing our practice, and are looking for smart, like-minded people to join us in that effort.
Bejin Bieneman PLC is an equal opportunity employer. We offer a full range of benefits, and a fun, informal working environment. You must have at least two years of IP law experience to be considered for this position. No headhunters. We will not pay relocation, and candidates from out of state should have a demonstrated tie to Michigan.
Contact
To apply, please contact: Dan Ryan at ryan@b2iplaw.com. Please submit a resume, cover letter, writing sample, and all post-secondary transcripts.
Additional Info
Employer Type: Law Firm
Job Location: Southfield, Michigan