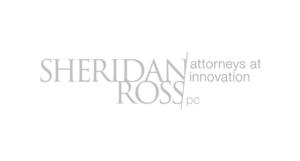 Sheridan Ross P.C. is seeking a Patent Prosecution Legal Assistant with 3 or more years of experience. A Patent Prosecution Legal Assistant, under the supervision and direction of Attorneys, helps to manage and organize materials and information relating to the drafting, filing and prosecution of patent applications. A Legal Assistant is an essential part of the team of people providing patent prosecution services to our clients and their duties will frequently include organizational, administrative and other clerical tasks that aid in providing clear and consistent communication to our clients.
Job duties include:
Prepare documents for patent applications and complete prosecution through issuance as assigned, including assist Attorneys with initial drafting of shell patent or trademark applications, draft and review correspondence including reporting letters, Responses to Office Actions, amendments, Notice of Allowance reviews, preparation and review of Information Disclosure Statements, providing instructions to foreign associates.
E-file relevant documents with US Patent & Trademark Office and state and federal courts as assigned.
Compile and organize case materials and fill in missing document gaps for current assigned cases; compile relevant documents in databases and network drives to maintain an accessible case file; actively maintain paper and/or electronic files with all relevant materials.
Employ various Firm resources, e.g. PATTSY, and shared network drives.
Facilitate communication between Attorneys and work directly with Attorneys in coordinating and executing their requests.
Serve as a point of contact for client, when necessary, to update on case status, etc.
Other administrative duties (e.g., maintain attorney calendar) as assigned.
Qualifications and requirements: 
The ideal Legal Assistant candidate is a college graduate (or equivalent experience) with experience in the legal profession and a strong interest in IP law. Excellent oral and written communication skills are necessary, as is the ability to interact professionally with staff, attorneys, legal assistants, clients and vendors. The successful candidate must be able to work independently as well as with a team, have an acute attention to detail and be able to multi-task and prioritize while working in a deadline-driven environment. Strong technical skills are required, particularly Microsoft Word, Excel, Outlook, Adobe Acrobat, and a Document Management System; knowledge of Carpe Diem, Westlaw, Relativity, Campulaw, and Sharepoint is a plus. Occasional overtime availability is required.
Contact
Interested applicants should submit their resumes to edavis@sheridanross.com.
Additional Info
Employer Type: Law Firm
Job Location: Denver, Colorado