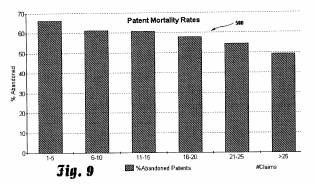 One reason that corporations continue to obtain patents is that a strong patent portfolio can alter Wall Street's outlook on the portfolio holder. During any merger or large acquisition, the associated patent portfolios should be given some review. In some instances, however, the review may simply take the form a Patent Quality Rating. PatentRatings is one company that calculates and sells such ratings. (U.S. patent 6,556,992).
The quality ratings are purely objective and can be based on a number of factors. Here are some tips to increase your rating:
1) Increase the number of claims.
2) Decrease the length of each claim.
3) Increase the length of the specification.
4) File patent as a continuation or CIPs.
5) Vary the type of claims.
6) Cite more references in your IDS.
7) Cite non-patent references or foreign patents.
8) Limit patent prosecution history.
FYI: U.S. Patent 5,583,591 has been identified with an A+ rating.