Here is your chance to purchase all rights to the Pollution-Free Alternative Fuel Moter Conversion Kit invented by Ron Meritt.
Meritt has designed the conversion kit to allow motors to run on either flamable or non-flammable fuels, meaning that a properly converted motor using this technology may run on just about any gas or liquid, including water.
According to Meritt's website an eBay auction will begin May 10 and run for 10 days with no reserve. The purchaser will receive
pending patents, trade secrets, a fully functioning prototype engine, and all documentation associated with this invention.
I did not find any patents or published patent applications for the alternative fuel technology (either invented by or assigned to Meritt). This likely means that applications were filed within the last 18 months or that the patents were not filed worldwide.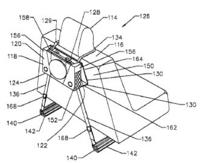 According to Jim Mateja at the Tribune, Meritt is the
same man who brought us the portable video players for cars, the one in a backpack that can be lung on the front seat so kids can watch their favorite movies.
Good luck bidding!
Update 5/10/04: Some additional information has been provided at the Meritt website noting that "documents" have been submitted to the USPTO.
It should be noted that the minimum legal documents were submitted to protect the secrecy of this design. The buyer is strongly advised to retain a licensed patent attorney to submit additional legal documents to insure maximum protection for this technology. The buyer understands that from the date of purchase, all future funding for engineering, technology development, legal protection or representation, and any other resource supporting this technology, prototype motor, and/or project is the responsibility of the buyer.
Here is a bio of Ron Meritt.
If you are interested in more environmental law news, Stephen Filler has a nice environmental blog known as Green Counsel.