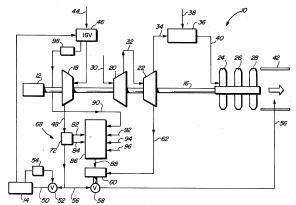 Honeywell International, Inc. (formerly known as AlliedSignal Inc.) v. Hamilton Sundstrand Corp. (formerly known as Sundstrand Corp.) (Fed. Cir. June 2, 2004) (en banc)
During prosecution, Honeywell had cancelled its broad independent claim and rewritten dependent claims in independent form. (U.S. Patent No. 4,380,893). The jury found that the patents in suit were valid and, although not literally infringed, infringed under the doctrine of equivalents. The district court entered judgment against Sundstrand.
On appeal, the Court extended Festo in holding "that the rewriting of dependent claims into independent form coupled with the cancellation of the original independent claims creates a presumption of prosecution history estoppel." The case was remanded for a determination as to whether the patentee can rebut the presumption of surrender under Festo.
In dissent, J. Newman argued that the holding will lead applicants to file more independent claims and fewer dependent claims — thus complicating the job of the patent office.
Hamilton Sundstrand is a United Technologies Corporation (UTC).