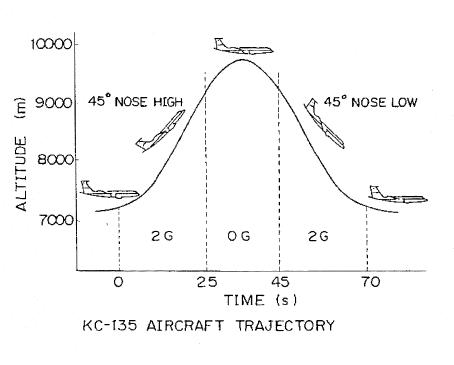 By Joseph Herndon.
The venture involving Zero Gravity Corporation and Amerijet International is the first to win approval from the FAA for zero-gravity airplane flights in the United States. For $2,950, regular folks can get a tamed-down taste of what astronauts feel. Zero Gravity's price tag for the daylong tour includes preflight training and a postflight party.
Passengers aboard a modified Boeing 727-200 jet will experience weightlessness for about 25 seconds at a time, courtesy of the plane's special parabolic flight path. A typical parabolic flight lasts about 90 minutes, with 15 up-and-down parabolas at an altitude of 24,000 to 34,000 feet. Two "Martian" arcs simulate one-third Earth gravity, three "lunar" arcs feel like one-sixth Earth gravity, and the final 10 provide the full zero-gravity experience.
Zero Gravity aims to keep capital expenses down by using Amerijet's cargo planes only when needed — a scheme that Peter Diamandis (co-founder and CEO of Zero Gravity) and his partners patented five years ago (U.S. Patent No. 5,971,319). The arrangement calls for a cargo jet to be converted to zero-gravity service in a matter of hours, then converted back after the flight.
Zero Gravity's launch caps an 11-year effort for Diamandis, who is also chairman of the foundation behind the $10 million Ansari X Prize for private spaceflight.
More complete story found at on MSN.
Note: Joe Herndon is a law clerk and at the intellectual property firm McDonnell Boehnen Hulbert & Berghoff and is a registered patent agent. Joe is looking out for his chance for a ride in the "vomit comet." herndon@mbhb.com.