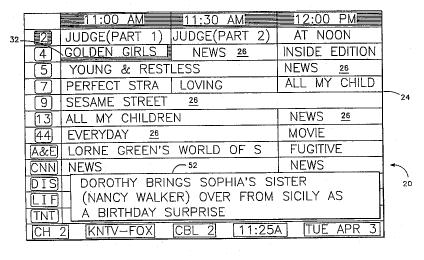 TV Guide (Gemstar) v. ITC (Fed. Cir. 2004).
TV Guide owns several patents relating to interactive program guides in digital cable television set-top boxes that enable viewers to search through TV schedules and pre-select programs for viewing and recording. In a case before the ITC, the commission concluded that Scientific-Atlanta did not infringe the patents and that one of the patents was unenforceable because an inventor was improperly excluded from the patent.
TV Guide Appealed: In an opinion released September 16, the Federal Circuit (CAFC) found that the ITC erred in claim construction and erred in determining that Mr. Neil was an unnamed co-inventor.
Inventorship is presumed correct without clear and convincing evidence otherwise:
Because Neil failed to present facts supported by clear and convincing evidence of his co-inventorship, the ITC erred in holding Neil to be an unnamed co-inventor…. Neil principally relies on his own testimony and the content of two product disclosure documents, an original disclosure document and a "second version" of the disclosure document.

The ITC found that Neil's testimony was "credible and straightforward," while Young's testimony "lacked those characteristics." Under our precedent, more than just the alleged co-inventor's testimony is required to establish co-inventorship by facts supported by clear and convincing evidence. Trovan, 299 F.3d at 1302. The mere fact that the ITC found the alleged inventor's testimony to be more credible than the named inventor does not itself rise to the level of clear and convincing evidence.
Affirmed-in-part, vacated-in-part, reversed-in-part, and remanded for further proceedings.
Now, the case is returned to the ITC to for another determination of whether the devices imported by Pioneer, EchoStar, and Scientific-Atlanta infringe the patents in suit in violation of 19 U.S.C. 1337.