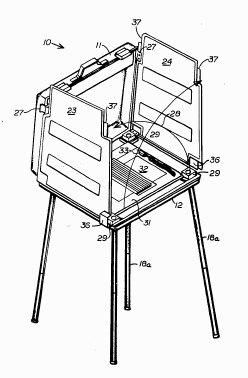 Chicago still uses punch-cards for voting. Despite the risk of hanging chads or dimpled marks, the benefit of this system is the paper trail. Many voters, including myself, are reassured by the paper trail. Patent No. 4,445,731 (shown above) was invented by John Ahmann in the early 1980's. The patent covers the type of portable voting booths used in my precinct. Ahmann is still recognized as an expert in voting technology and testified in the Bush v. Gore controversy of 2000. According to the BBC, about 30% of U.S. voters will use electronic voting (e-voting) machines in today's election.
Problems and praise Opponents highlight the problems that have already occurred with the machines – pointing for instance to a congressional race in Ohio in which votes were incorrectly registered due to a problem with the memory cartridges.

At the same time however, Georgia's entirely electronic system appears to have few naysayers after two years in operation – although it is widely accepted that the presidential election will prove the greatest test.

The principal criticism remains the lack of paper audit trails. Nevada is the only state using machines which will provide voters with the kind of receipt which would, if necessary, allow for a manual recount.

But in order to accommodate some of the concerns, a number of states – including California – will give voters the opportunity to vote using electronic machines or a paper ballot form.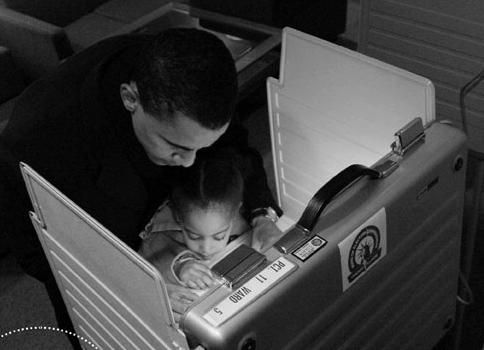 Here is a picture of my neighbor and senate hopeful Barack Obama and his daughter casting his vote.