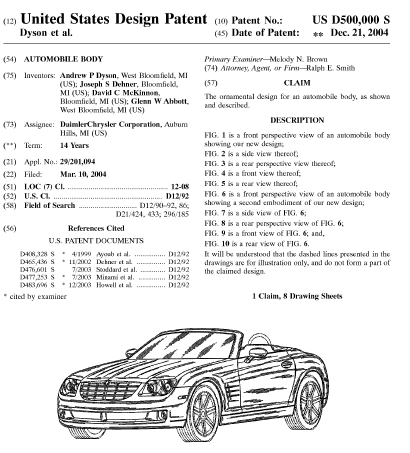 The USPTO announced a ceremony to commemortate issuance of design patent number 500,000. The patent, issued to DaimlerChrysler(R) for the design of the Chrysler Crossfire(R) will be awarded by the new Secretary of Commerce Carlos M. Gutierrez and Under Secretary of Commerce for Intellectual Property Jon Dudas.
Design patents are granted for new, original, ornamental designs for articles of manufacture. The first design patent was issued in 1842 to George Bruce of New York City for printing types. Design patents provide exclusive rights to their owners for a term of 14 years from the date of issuance. [LINK]
Long out of favor, design patents are seeing a rebirth. Earlier this week in Junker v. Eddings, the Federal Circuit upheld an $800,000 verdict in a design patent case. According to Philip Mann, unlike in prior cases, "the Federal Circuit did not go out of its way to find the design patent invalid and/or not infringed."
Logistics:
Friday, February 11, 2005, 11:00 a.m.
Lobby, U.S. Department of Commerce
Main Entrance, 14th Street, N.W.
NOTE: I just received word from the PTO that the ceremony is NOT open to the public.