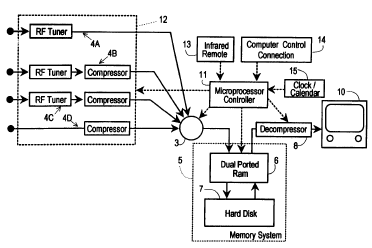 Pause Technology v. TiVo (Fed. Cir. 2005).
At the district court, TiVo was awarded summary judgment of non-infringement — The court found that TiVo's digital video recorder (DVR) 2.0 did not infringe Pause Tech's patent. (Reissue Patent No. 36,801).
The Federal Circuit, however, refused to hear the case for lack of subject matter jurisdiction. Specifically, because the district court had not ruled on TiVo's invalidity counterclaim, the appeal was "not from a final decision within the meaning of 28 U.S.C. § 1295(a)(1)." Citing the Supreme Court case of Catlin v. United States, the CAFC defined a final judgment as a decision by the district court that "ends the litigation on the merits and leaves nothing for the court to do but execute the judgment." From a policy standpoint, this rule ensures that appeals are not taken piecemeal.
In the present case, the district court did not expressly dispose of the invalidity counterclaim and no finding that the counterclaim was moot. Thus, according to the CAFC, "the invalidity counterclaim remains pending." As such, the summary judgment at the district court was not final.
Accordingly, this appeal is dismissed for lack of jurisdiction, subject to reinstatement under the same docket number without the payment of an additional filing fee if, within 30 days of the date of this opinion, a party appeals from the entry of a final judgment on the entire case or obtains a certification for appeal pursuant to Rule 54(b). If the appeal is reinstated, it will be decided by the present panel, based on the briefs already filed and the oral argument heard on January 13, 2005.
Dismissed.