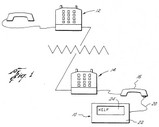 Regents of UT v. BenQ (N.D. Tex.) (05–CV-181).
The University of Texas has filed suit against fourteen electronics manufacturers for infringement of a patented method that allows text messaging through a standard telephone keypad. The patent was issued to Professor George Kondraske in 1987 and covers a form of "predictive text." (U.S. Patent No. 4,674,112). According to Katherine Mangan in the Chronicle of Higher Education, Kondraske teaches electrical and biomedical engineering at the system's Arlington campus.
The lawsuit was filed this month in U.S. District Court in Austin, and charges Kyocera, the Sanyo North America, Sony Ericsson Mobile Communications, NEC USA, and others of infringement. Judge Sam Sparks has been assigned the case.
According to the U.S. Patent Office, the University of Texas system received 101 patents in 2004 — ranking fourth behind the University of California, CIT, and MIT.
Links: