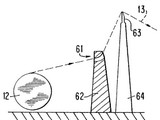 Group One Ltd. v. Hallmark Cards, Inc. (Fed. Cir. 2005)
Group One owns patents on a device for curling ribbon. Hallmark manufactures pre-curled ribbon products and in 1997, was sued by Group One for infringement.
A jury found the patent valid and infringed and awarded $8.9 million in damages to Group One. However, in a post-verdict ruling, the Judge found the patents invalid.
I. Correctable Mistake on the Patent
One of Group One's patents included a printing error by the PTO that resulted in the omission of important claim language that was added during prosecution of the application. The district court held that it lacked authority to correct the error and that only the PTO could correct the printing error. 35 U.S.C. 254.
The appellate court affirmed, finding that a district court may only correct a patent document if the error is "apparent from the face of the patent."
II. Motivation to Combine
The patent claims require a "stripping means" that was found in several prior art references. None of the references, however, related to ribbon curling. The jury found that the references did not obviate the claims — a verdict that was overturned by the district court in a JMOL. The CAFC restored the jury verdict, finding that even the examiner's failure to consider stripping means references could not "provide a basis for overturning the jury's factfinding."