Brembo v. Alcon Components (N.D. Ill. 2005).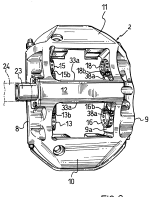 Danica Patrick has been in the media spotlight since her fourth-place finish in this weekend's Indianapolis 500. Now, the Brembo brakes on her Indy-car are the subject of a patent infringement lawsuit.
One disputed claim term was "single part." Interestingly, because Alcon provided "no definition for the word 'single,' . . . the Court infer[red] that Alcon does not dispute Brembo's proposed definition."
As with virtually all claim construction decisions. This one is expected to be appealed.
File Attachment: Brembo.claim.construction.pdf (103 KB)