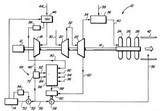 Honeywell v. Hamilton Sundstrand (on petition for certiorari).
Following Festo, some attorneys stopped "amending" claims. Rather, they would cancel claims and add new ones with additional limitations. In 2004, an en banc Federal Circuit panel held that such rewriting would still create a presumption of prosecution history estoppel that would bar use of the doctrine of equivalents.
[R]ewriting of dependent claims into independent form coupled with the cancellation of the original independent claims creates a presumption of prosecution history estoppel.,
Honeywell has petitioned for a writ of certiorari at the Supreme Court, asking the court to determine whether the CAFC was correct in its interpretation of Festo.
Upon invitation, the Solicitor General has filed a brief for the United States as an amicus curiae. In the brief, the Government opposes the petition, arguing that the CAFC "correctly applied Festo to the facts of this case."
Links: