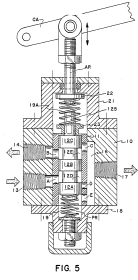 Abbey v. Mercedes Benz of North America (Fed. Cir. 2005) (NONPRECEDENTIAL)
After a long litigation proceeding involving multiple dismissals and re-filings, a Florida district court granted summary judgment to the defendants on the grounds of Res Judicata for each of Abbey's three asserted fuel-injection patents. One of the patents, although related to the others, had issued after Abbey's claims had been initially dismissed.
On appeal, the CAFC found that the continuation patent could not be the subject of a dismissal for res judicata.
Because each patent asserted raises an independent and distinct cause of action, and because on this record, Mr. Abbey's claims of infringement of the '977 patent were never considered by the district court, they are not part of the final judgment that concluded the first lawsuit. Accordingly, a claim of infringement based on the '977 patent is not precluded by that judgment and can be the subject of a second lawsuit.
Vacated and remanded.