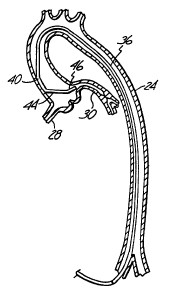 Voda v. Cordis Corp. (Fed. Cir. 2005)
The past year has seen an expansion of the reach of U.S. patent laws based on the Federal Circuit's decisions in Eolas v. Microsoft and RIM v. NTP. A third case in the pipeline is now ready to burst at the seams.
In August 2004, an Oklahoma district court granted Dr. Jan Voda's motion to amend the complaint to add claims of infringement of five foreign patents. In February, the CAFC granted an interlocutory appeal request, which will likely be heard this fall.
Dr. Voda is a cardiologist in Oklahoma City who has patented a number of catheters and other medical devices used in the practice of medicine. Voda has alleged that Cordis has infringed patents both on U.S. soil and abroad. In order to save resources and establish a uniform judgment, Voda has asked, and the court has granted, permission to consolidate the world-wide patent issues into a single case.
In an impressive brief, Cordis argues forcefully that the supplemental jurisdiction statute (28 USC 1637) does not apply to foreign patent claims.
Two major IP organizations (AIPLA & IPO) have recently filed amicus briefs asking the CAFC to reverse the lower court's decision — essentially arguing that "comity" should rule. Of course, the CAFC only months ago rejected comity arguments in both Eolas and RIM. Noted commentator and professor Hal Wegner has listed Voda atop his "Top Ten Pending Patent Cases."
Links: