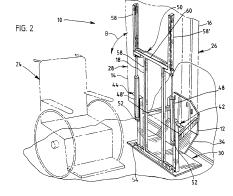 Freedman Seating v. American Seating (Fed. Cir. 2005).
Freedman was awarded summary judgment of infringement based on an analysis under the doctrine of equivalents.
Freedman's patent covers technology for stowable bus seats that allow room for a wheelchair. The claims include a limitation of a seat-base having a slidably mounted movable end. On appeal, American Seating argued that its rotatably mounted elements were not equivalent.
Agreeing with American, the CAFC reversed, holding that allowing DOE coverage of a rotatably mounted element would vitiate the claim language that required the element be slidably mounted.
[A]n element of an accused product or process is not, as a matter of law, equivalent to a limitation of the claimed invention if such a finding would entirely vitiate the limitation.
According to the panel, determining vitiation is done by considering "the totality of the circumstances in each case." Specifically, the court must determine whether the alleged equivalent can be fairly characterized as an insubstantial change from the claimed subject matter without rendering the pertinent limitation meaningless.
In this case, the court determined that the "slidably mounted" limitation excluded the possibility of DOE coverage of a "rotatably mounted" element.
Reversed.
Comment:
DOE jurisprudence is becoming more confusing. Every defendant now has an arguable vitiation position — since, by definition, the DOE is only applied against products that do something different than what is required by the claims.