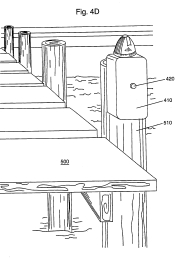 Terlep v. Brinkman Corp (Fed. Cir. 2005).
Stephen Terlep sued Brinkman, Wal-Mart, and Home Depot for infringement of his patent directed to an omni-directional LED. After construing the claims, the Arkansas federal court granted summary judgment of noninfringement based on the accused products failure to have a "clear plastic tubular holder" as claimed.
On appeal, the Federal Circuit affirmed, finding that the court's claim construction methods were appropriate under Phillips v. AWH.
In Phillips, the CAFC determined that the specification of a patent is "always highly relevant to the claim construction analysis. Usually, it is dispositive."
To apply Phillips, the court analyzed each use of the term "clear" in the claims, specification, and prosecution and came to the conclusion that the district court had appropriately excluded "translucent" from the term's definition.
Dictionaries: The CAFC went on to find that the district court's use of dictionary definitions to support its finding from the written description was an appropriate use of the extrinsic evidence.