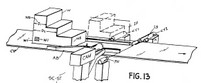 Symbol v. Lemelson (Fed. Cir. 2005).
Lemelson's patents have priority dates of 1954 and 1956, but through skillful use of the patent rules, several patents have still not expired.
In an infringement suit against Symbol, the district court found that the patents were unenforceable under the doctrine of prosecution laches — holding that the "18 to 39 year delay in filing and prosecuting the asserted claims . . . was unreasonable and unjustified."
On appeal, the Court of Appeals for the Federal Circuit affirmed, finding that the lower court did not abuse its discretion in holding the patents unenforceable.
The court listed several "legitimate grounds" for filing a continuation in a patent:
Filing a divisional application in response to a restriction requirement (even if you defer filing the divisional until just before the parent issues);
Refiling rejected claims in order to present newly found evidence of unexpected advantage;
Filing a continuation to support broader claims; and
Refiling for other reasons that are "not unduly successive or repetitive."
However, the panel found that refiling an application solely containing previously-allowed claims for the business purpose of delaying their issuance can be considered an abuse of the patent system — and can constitute laches.
The court was careful to note that a single delay in one particular application would not merit the extraordinary relief of unenforceability. However, a history of a series of delay may trigger laches. "Patent applications should normally be permitted to issue when they have been allowed and the statutory requirements complied with."
Comment:
Important inventions generally involve at least one continuation application — when filing a continuation, the attorney should consider whether it is justified under one of the listed legitimate grounds.
Because of the 1995 change in the law, this issue is becoming largely moot. Now patents have a 20–year term from the filing date rather than the old 17–years from issuance.
Links: