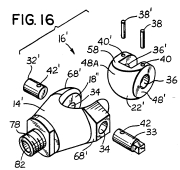 Crater Corp v. Lucent (Fed. Cir. 2005).
Crater holds a patent on a coupling device that operates underwater. In a suit involving trade secret violations, the district court determined that the Government's assertion of "Military and State Secret privilege" made it impossible for Crater to engage in discovery or to make out a prima facie case. The court therefore dismissed the claims.
On appeal, the CAFC found that the lower court correctly sustained the government's assertion of the state secret privilege, but erred in dismissing the case.
For the state secret privilege to be properly asserted, "the head of the pertinent government department must formally invoke the privilege on behalf of the government. Then, after reviewing the declarations of government officials and the circumstances surrounding invocation of the privilege, the court must determine whether assertion of the privilege is appropriate."
After reviewing confidential documents submitted by the Government, the CAFC concluded that the Government had claimed a legitimate state secret. Although the appellate panel recognized that proper resolution of the issues would be difficult in light of the state secret restriction on discovery, the court ordered that the facts of Crater's claims must be further developed before making a determination of whether those claims should be dismissed.
In dissent, Judge Newman argued Crater should be given access to the Government documents and that the case should proceed in camera.
This case does not raise the constitutional debate about public trials; this is a commercial dispute, of interest only to the parties. It seems clear that the court's requested remand cannot be implemented without risk of violating the secrecy order, with possible penalty. This is the third judicial cycle of this simple dispute. We should remand this case for in camera proceedings that would protect the information from public disclosure, and allow this dispute to come to closure. Trials in camera of issues subject to secrecy restraints are not new, and such trial would be the appropriate procedure in this case.