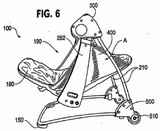 Fisher-Price v. Graco (Fed. Cir. 2005) (NOT PRECEDENT).
Fisher-Price holds a patent on a collapsible infant swing and sued Graco for infringement. The primary asserted claim reads as follows:
6. An infant swing comprising:
an upward extending frame support post;
a swing arm pivotally coupled to an upper end of said frame support post and extending in a downward direction from said upper end of said frame support post;
a seat coupled to said swing arm and having an upper seating surface;
said swing arm and said frame support post defining a reconfigurable swing area there between;
a shield coupled to said seat and extending upwardly from said seat and disposed between said reconfigurable swing area and said seating area.
After a Markman hearing, the district court found several limitations of the claim indefinite (italicized) and thus invalid.
On appeal, the CAFC explained that a defect in a claim must be "severe" before it will be invalidated as indefinite. Here, the CAFC reversed because the "patent is not complex; it is readily understood by both the expert and layperson [and] the words used in the limitation are simple, with well-known ordinary meanings [that] can be construed without great difficulty, even if, as Graco points out, it is not mentioned in the specification."
Finally, regarding "said seating area," Graco argued that the term was indefinite because it had no antecedent basis in the claim. Although not rejecting the legal basis of this argument, the CAFC found an implied antecedent basis in the term "upper seating surface."