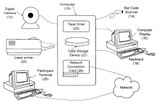 eBay v. MercExchange (Supreme Court 2006).
Like any patentee, Tom Woolston wants the exclusive rights to his invention as spelled out in the Patent Act.
Every patent shall contain . . . a grant . . . of the right to exclude others from making, using, offering for sale, or selling the invention . . . (35 U.S.C. 154).
A jury found that his patent was valid and infringed, but the court refused to enter an injunction to stop the infringement. Woolston's patent relates to computerized auction technology, and the defendant here is auction giant eBay.
On appeal, a panel of three judges at the Court of Appeals for the Federal Circuit reversed the lower court, finding that absent exceptional circumstances, a district court should issue a permanent injunction after a finding of infringement.
Many of the biggest names in technology as well as academia have taken issue with the CAFC's holding and argue that the court's "nearly automatic" injunction provisions violate both traditional notions of equitable relief as well as Section 283 of the patent act.
In what could easily be the most important patent case in the past five years, the Supreme Court will hear eBay's arguments on March 29, 2006. Injunctions form the bedrock of traditional patent law, and changes in this area will send waves through virtually every technology-centered business.
In its brief on the merits, eBay argues that, like any equitable relief, courts should apply the traditional four-factor test that includes consideration of (i) irreparable harm from not issuing an injunction; (ii) whether an adequate remedy exists in law (damages); (iii) whether the injunction would be in the public interest; and (iv) whether a balance of hardships would tip in the plaintiff's favor.
EBay also takes the stance that the field of technology covered by the patent should effect the likelihood of an injunction. Here, because MercExchange's patent is related to a business method — a less favored technology. In addition, eBay presents other questions of patent quality and cites the largely questioned assertion that 97% of patents are approved.
Section 283 of the Patent Act supports eBay's position by providing that a court "may grant injunctions in accordance with the principles of equity to prevent the violation of any right secured by patent, on such terms as the court deems reasonable." This statute, according to eBay requires the courts to judge the equities before issuing such an injunction.