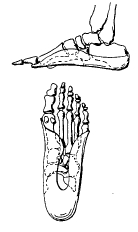 Schoenhaus v. Gensco (Fed. Cir. 2006, 05–2178).
In a claim construction decision, the Court of Appeals for the Federal Circuit (CAFC) has affirmed the lower court's exclusion of "semi-rigid" shoe inserts from the claimed "rigid" inserts. In the process, the court noted that "there is a presumption that the same terms appearing in different portions of the claims should be given the same meaning unless it is clear from the specification and prosecution history that the terms have different meanings at different portions of the claims."[1]
Interestingly, it appears that there was no Markman hearing in this case. (Pacer Report). Yet, the CAFC praised the lower court's summary judgment decision and its embedded claim construction.[2]
January 10, 2005, the district court granted defendants' motion for summary judgment of non-infringement. Senior Judge Louis H. Pollak did not issue a separate Markman order; rather, in a carefully-crafted summary judgment opinion, he construed two limitations of claim 1 of the patent and found as a matter of law that neither limitation was present in the accused shoes. . . .
AFFIRMED
Notes:
[1] Fin Control v. OAM, 265 F.3d 1311, 1318 (Fed. Cir. 2001) (emphasis in original).
[2] Schoenhaus v. Gensco District Court Decision.