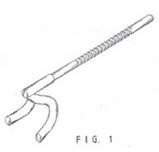 Over at the Shape Blog, Boston attorney John Welch has been writing about the fallout after the Federal Circuit's design patent decision in Lawman Armor v. Winner International. In that case, the appellate panel determined that the "point of novelty" test for design patent infringement is focused entirely on individual points of novelty, gives no weight to the resulting novelty-by-combination, and requires no suggestion or motivation to combine prior art references.
The technology-at-issue here is a steering wheel lock design similar to "The Club
"
Lawman recently filed a petition for rehearing, and, in addition, Nike and the Industrial Design Society of America (IDSA) have each filed an amicus brief in support of a rehearing. The AIPLA is reportedly planning to file as well. This CAFC decision takes the wind out of design patents and leaves them quite weak. The petition for rehearing hopes to change that outlook. Winner's responsive brief is due April 3, 2006.
Documents:
Links: