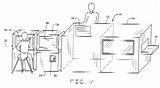 On Demand Machine v. Ingram and Amazon.com (Fed. Cir. 2006, 05–1074).
One aspect of this case involves the concept of "joint infringement." The district court instructed the jury as follows:
It is not necessary for the acts that constitute infringement to be performed by one person or entity. When infringement results from the participation and combined action(s) of more than one person or entity, they are all joint infringers and jointly liable for patent infringement. Infringement of a patented process or method cannot be avoided by having another perform one step of the process or method. Where the infringement is the result of the participation and combined action(s) of one or more persons or entities, they are joint infringers and are jointly liable for the infringement.
On appeal, the appellate panel found "no flaw in this instruction as a statement of law." This raises a number of interesting questions. Many of these questions will be answered in the Freedom Wireless appeal that is currently being briefed. In that case, the lower court gave the following jury instructions:
if separate companies work together to perform all the steps of a claim of a patent, the companies are jointly responsible, that is, responsible as a group for the infringement of the patent. Even if no single company performs all the steps of the claim, the companies are jointly responsible.
Based on these instructions, the jury found infringement. In an unpublished order (Dec 05), the CAFC granted a stay of the injunction because of the questionable theory of joint infringement — noting that the CAFC has not directly addressed addressed the theory of joint infringement and there is relatively no precedent on that issue.
Notes: