Ronald A. Katz: Five of the licensing guru's patents have been put up for reexamination. The requester is Patent Attorney John Welsh [Link].
Inequitable Conduct: Supreme Court has denied certiorari in Ferring v. Barr. The CAFC found the patent unenforceable because the patentee had submitted scientific declarations in support of patentabiliity but did not explicitly disclose that the scientists had financial relationships with the patentee. [Link].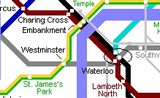 Business Methods and Software Patenting in the UK: The court gives its new patentability test . . . [IPKat]
(1) properly construe the claim
(2) identify the actual contribution;
(3) ask whether the contribution falls solely within the excluded subject matter;
(4) check whether the contribution is "technical" in nature.
Voda: Can anyone tell me what is happening with this case still pending at the CAFC?

Blogger on the Move: Noted Bostonian and TTABloger John Welch is moving from Foley to the Lowrie Lando firm. Hopefully the excellent writing will continue. [TTABlog]
James Amend, Mediator:

The CAFC is exploring alternative dispute resolution and has begun to make mediation mandatory for certain pending cases. To bolster the process, the court has appointed James Amend to head the mediation program. I worked with Mr. Amend when I was at K&E and expect to see more pending appeals settle. [Link]